One of the best reasons to get yourself the best wireless phone charger for a car is because it provides you with more charging options.
If you often have challenges with keeping your phone on charge and you end up with a dead battery every now and then, getting a car phone charger would be a solution that will give your phone a little extra juice and keep it on.
The great thing about wireless chargers is that you wouldn't have to fumble through tangled cables or check your phone at intervals to ensure that the cords are properly plugged in.
A wireless charger the best trending gadget takes away all these worries and gets your battery fully charged faster.
Presently, there are a ton of wireless car phone charger brands that make many promises when it comes to charging speed and design, however, only a few live up to the hype.
In this Car Mount Phone Holder Quick Wireless charger Review, you will find the best options to consider for your car.
But first, you will have to know the things to consider when shopping for a car phone charger.
Wireless Phone Charger For Car – Buying Guide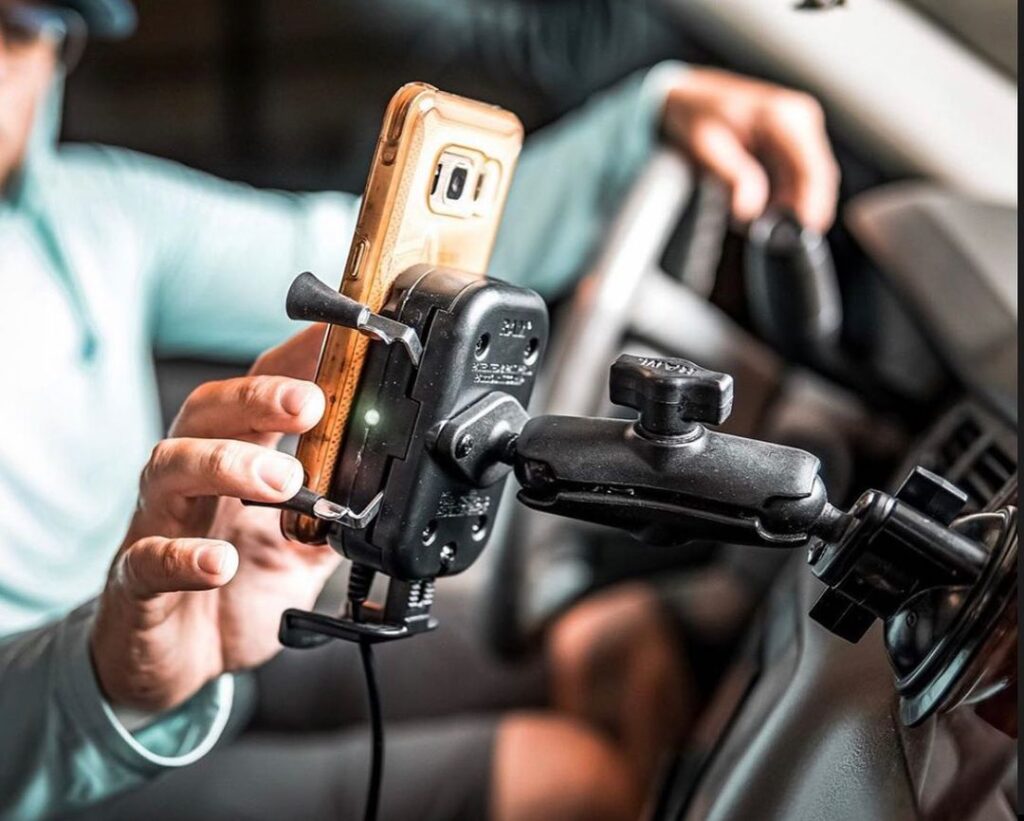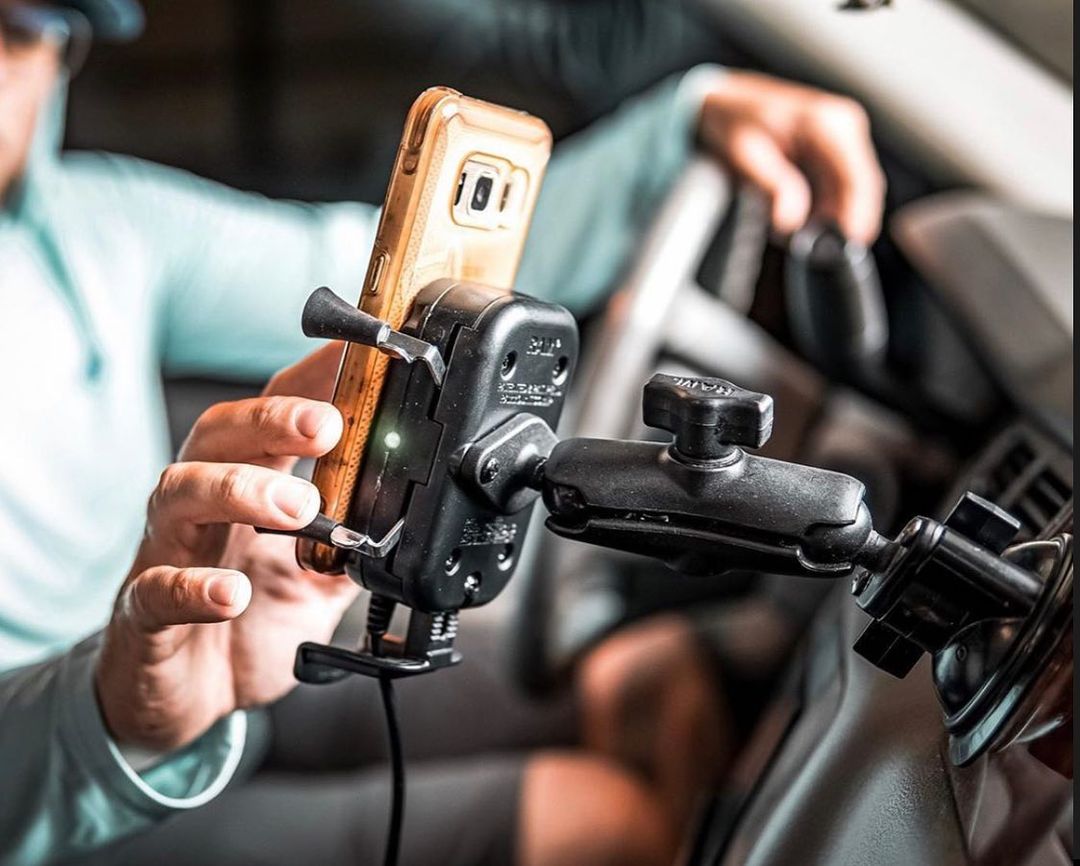 WPC Certification: A WPC certification means that your Qi wireless chargers have been verified and found safe to use with compliance with the Qi standard.
While wireless charger car mounts that are not certified could also perform well, it is important that you only go for the certified models as they will perform better in the long run.
Charging Speed: Some wireless chargers could get your phone battery fully charged in less than two hours while others could take a much longer time.
Factors like the price could determine how fast the wireless charger will be, but if you're looking to get something that could solve your problem faster, then, going for Automobile phone chargers that supports charging speed up to 15 watts could be the best thing to do.
Power Source: There are two things that you should consider here; the ease of connection and the affordability of replacement parts.
Wireless chargers that use standard connections are easier to fix and replace those with exclusive connections.
Design: There are numerous Car phone holder charger designs that not only aim to help balance your phone while it's charging but also to make your car's dashboard look classy.
When checking out the designs of car mount phone holders, look out for the quality of the design, ease of use, flexibility capacity, and extras like charging indicator lights.
iOttie Auto Sense
iOttie Auto Sense Automatic Fast Charging for Car
2 new from $56.99
5 used from $43.56
Free shipping
as of May 15, 2022 11:24 am
Features
Auto sense: motion sensing technology automatically opens and closes mount for secure Phone Installation
Qi certified: Qi certified wireless technology charges phone without need for charging cables
Adjustable viewing: The newly crafted designed telescopic arm extends from 4.9" – 8.3" and pivots on 225° arc for a variety of optimal positions
Strong SUCTION: One time use dashboard disc and reusable suction cup combo offers superior stick strength
There are only a few wireless charging car mounts that can hold phones from most phone brands and that is why you have to love the iOttie Auto Sense Wireless Qi Charger Car Mount.
Some car mounts only work best with brands like Samsung and iPhone. This could pose a challenge for you if you wanted to charge a phone from a different brand as you would have to battle with it slipping off your car mount while you're driving.
With the IOttie Auto Sense, you can plug in your phone and totally forget about it. This car phone holder charger has many other beneficial features like a telescopic arm and degree viewing, thanks to its pivot motion that lets you turn it up to 225 degrees.
Pros and Cons
Pros
Adjustable telescopic arm
Easy one-touch and release
Works with many smartphone brands
ZeeHoo Wireless Car Charger,10W Qi Fast Charging Auto-Clamping Car Mount
ZeeHoo Wireless Car Charger Fast Charging Car Mount
out of stock
as of May 15, 2022 11:24 am
Features
【Smart Automatic Sensor Design】Automatic opening and clamping design which can be operated with one hand and make everything easier and safer. Just place your phone inside the holder, the clamps will close and provide a strong stable hold. A gentle touch on any sides of the quick release buttons,the arms would automatically open.When your phone is fully charged, the wireless car charger will automatically power off and last the life of battery of your phone.
【Qi Wireless Charger & Phone Holder】2-IN-1 Design Combines the Qi Wireless Charger and a car phone holder.Wireless car charger offers fast charging for your phones and save you from the messing with cables and cases while driving.
【Strong Suction Cup & Adjustable Viewing】 You have multiple installation of the wireless car charger holder,it can be installed on the windshield, dashboard,table securely with the strong suction cup .The fully 360-degree rotation allows for optimum viewing and easier use of functions, which is the safest way to access your phones systems such as your GPS and phone calls.
【Case Friendly & Faster Charging】No need to take off phone case (most of phone cases in the market except rugged, uneven case.)while charging.The car holder can hold all phones with a width of 60-80mm tightly, which works very well for all QI-enabled phones.Max 10W Fast Charger for Samsung S10/S9/S8/S7/Note 5, Max 7.5W Fast Charger for iPhone XS max/XS/XR/X/8, 5W for Other Qi-Enabled Phones.For 10W, 7.5W fast charging mode,QC 3.0 car charger adapter is required as its power source.
【Package Contents & Worry-Free 】You can get 1 x Qi Wireless Car Charger, 1 x Suction Cup Mount,1 x Air Vent Clip, 1 x Type C Cable (length 1M/3.28FT), 1 x User Manual, 18 months Worry-Free, 12-Hour response friendly customer service.
Probably the best features of the ZeeHoo Wireless Fast Charging Auto-Clamping Car Mount are its automatically stop charging functionality and its fast charging function.
The ZeeHoo Wireless Fast Charging Auto-Clamping Car Mount supports a 10W quick wireless charging function which should get your phone from 0 to 100 per cent pretty much faster than most other automobile phone chargers.
Its stop charging functionality automatically stops the charger from charging your phone battery once it gets full.
The fact that this is feature is lacking in many other car phone charger holders is one of the reasons why you should love ZeeHoo,
Although most modern phones have software that stops the charging process when the battery reaches 100 per cent, it won't hurt to get a charger that can do the same.
Pros and Cons
Pros
Easy to install and use
Fast charging
Compatible with many smartphone types
Qi wireless charger
Automatically stop charging functionality
Mankiw Wireless Car Charger System
Wireless Car Charger Automatic Fast Charging for Car
as of May 15, 2022 11:24 am
Features
【Smart Automatic Opening and Clamping Clips Design】One hand operation, containing a built-in advanced sensor. Two clips of the mount will automatically opening, close and grip your phone when the phone is attached to the holder; To release the phone, press quick-release button on any side ,the clips will automatically open ,then you can take the phone out.(if the clip could not open automatically, please click the Green button which in the bottom of the wireless charger to turn on the sensor.)
【Wireless Fast Car Charger Mount】MANKIW 2-IN-1 Design combines charger with phone holder in one unit. Pull down the bottom bracket to keep the phone and coils aligned so that wireless charging pad offers a quickly charger while driving. Keep you away from the tangled locating cords or cables. Cell phone holder is suitable for car Windshield Dashboard Air Vent installation, and makes GPS and phone call more convenient.
【Thick Case Friendly & Faster Charging】No need to remove your phone case (most of phone cases in the market except rugged, uneven case.)while charging.The car holder can hold all phones with a width of 60-80mm tightly, which works very well for all QI-enabled phones. .For 10W, 7.5W fast charging mode, QC 3.0 car charger adapter is required as its power source.
【Stable Sucker, Adjustable View】Secure sucker sticks tightly on the dashboard or most surfaces. The dashboard car mount has two ways to move and adjust, the adjustable arm and 360° joint ball could help you find the most suitable angle for safe driving. What's more, a ventilation holder are equipped, allowing the charger to be flexibly mounted on the car air vent.
【Compatibility and Warranty】Suitable for cellphones between 4-6.5 inches, Compatible with any Qi-Enabled cellphones.
The Mankiw Wireless Car Charger System is another 10W car phone charger that can give your phone the extra juice that will keep it running all day.
This best mobile phone accessories charger is equipped with many beneficial features like smart auto clamping and opening clips for easy operation.
These features make it very easy to use and you wouldn't have to worry about your phone slipping off the holder while driving. Its smart auto clamping sensors keep the phone clamped and in place when you need to charge.
In addition, the Mankiw Wireless Car Charger is thick case-friendly, which means you can keep your phone case on when charging. Another loveable feature of the Mankiw is its adjustable arm with the 360-degree joint ball.
This feature allows you to place your phone in the position most suitable for fast charging.
Pros and Cons
Pros
Thick case friendly
Stable secure sucker
Adjustable arm with a 360-degree joint ball
10W, 7.5W fast charge mode
Auto clamp and opening system
Cons
Some smartphone types won't attach firmly
Wrapping Up Best Wireless Phone Charger For Car
There are many other car phone chargers like the CHGeek 15W Qi Fast Charging Auto Clamping Car Charger and Wireless Car Charger,10W Qi Fast Charging Auto-Clamping Car Phone Holder which offer great promise. However, we consider the options above to be the best car phone chargers on the market.
More interestingly, these options are more affordable than most even though they have many advanced features, you would rarely find in other expensive wireless phone chargers for cars.
In your search for a compatible wireless car charger mount for your vehicle, you should consider only the options that have WPC certification, have a good number of features, and support most smartphone types.