Last Updated on 3 years by On Trends Gear
The new Apple Watch 6 series is the latest release from Apple into the smartwatch market and it does serve as a worthy replacement for the Series 5.
There are several identical features to the Series 5 and a few new perks here and there.
Overall, the Apple Watch Series 6 does pack some exciting features that would rival other leading smartwatch brands with new releases.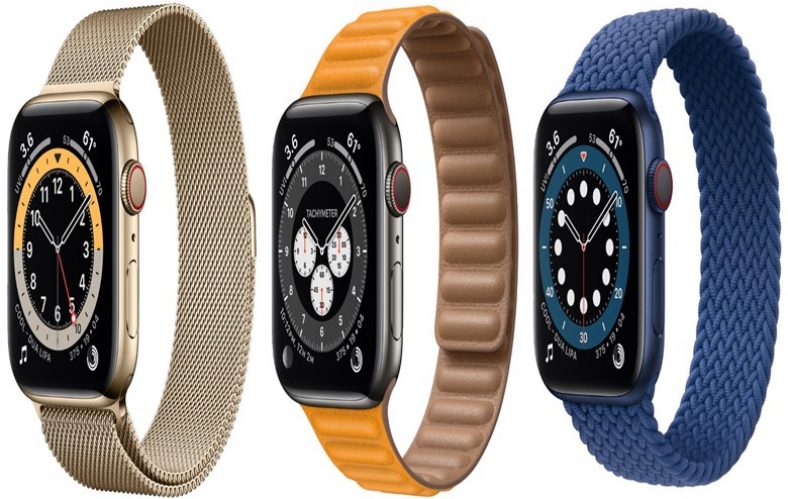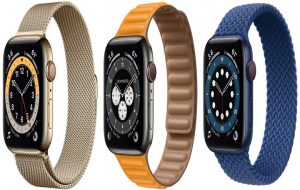 One new outstanding feature in the Series 6 is the addition of a Blood Oxygen Monitor. Luckily, this extra perk doesn't raise the price by anything as the Series 6 comes with the same price point as the Series 5.
This might be Apple's way of gaining the attention of new buyers looking for a durable and functional smartwatch.
It is also a great way to tell loyal customers to upgrade. In this Apple Watch Series 6 review, we check out the features of this new wearable and see just how well it works.
Specifications
Sale
Case Size: 40 or 44mm
Case Thickness: 10.4mm
Weight: 30.5 to 39.7 grams or 36.5 to 47.1 grams
Display: Retina LTPO OLED, 1000 nits (peak)
Screen Size: 1.78 inches
Resolution: 448 x 368 pixels
Processor: S6
RAM: 1GB
Storage: 32GB
Operating System (OS): WatchOS 7
Battery Type: non-removable Li-Ion 303.8 mAh (1.17 Wh),
Charging: Wireless charging
Water resistance: 50 metres (5ATM)
Sensors: gyro, accelerometer, HR sensor, ECG, light, compass, blood oxygen, speaker, NFC, microphone, GPS/GNSS, altimeter
Connectivity: Bluetooth 5, Ultra-wideband, wifi n, NFC, optional 4G requiring eSIM
Design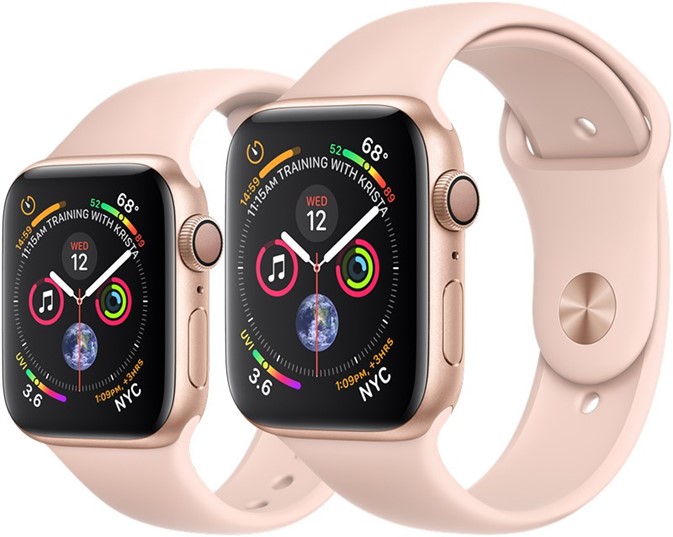 The design of the Apple Watch Series 6 doesn't deviate much from its predecessor. It still comes with the same slim-bezel display and size options of 40 and 44mm.
The watch measures 10.4mm thick with a custom square-shaped build that has become the main design of Apple Smartwatches since 2015. The smartwatch is also lightweight weighing between 30.5 grams to 47.1 grams.
On the back of the smartwatch are the sensors for blood oxygen monitoring, heart rate monitoring, and ECGs.
You will find four LED clusters and four photo bodies which are twice as more as you would get in the Series 5. On the side is a Digital Crown, and a side button that allows you to navigate and control the smartwatch.
You would be able to access emergency services, make Apple Pay purchases, and perform several other functions with these features. The display of the Apple Series 6 is just similar to the Series 5.
It flaunts an OLED ultra-low poly-silicone and oxide display. This enables an Always-On Retina display so you can view stats like time and other information without having to double-tap to wake the screen.
The screen becomes dim after some moments of inactivity to preserve battery life, however, you can still tell the time without having to raise your wrist.
The display comes with a refresh rate of 60Hz which comes down to 1Hz when the smartwatch is inactivity. The Always-On display comes with an auto-brightness feature.
This means it would light up when you move outdoors making it easier to take note of the watch hands in the bright sun. Apple does away with the Force Touch feature in the Series 6.
In previous models, this feature pops up the menus and settings of the watch when the screen is pressed with a finger. Instead of pressing the screen, you would have to swipe down or use the Digital Crown.
The Apple Watch Series 6 comes with several casing materials including aluminium, titanium, and stainless steel. If you want to save on your purchase, you can go for the aluminium models.
Water Resistance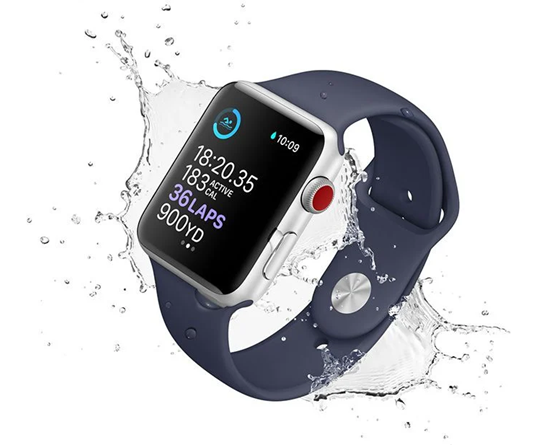 The Series 6 comes with waterproof capability allowing you to make a splash in the pool without worries. It allows for immersion in water as deep as 50M.
The smartwatch is sealed tight so nothing gets in. However, if you're planning to use this smartwatch for scuba diving or waterskiing, you might want to plan for a replacement.
Water damage to the Series 6 is not covered in your warranty which means you're less likely to get free repair or replacement if such happens.
Health Monitoring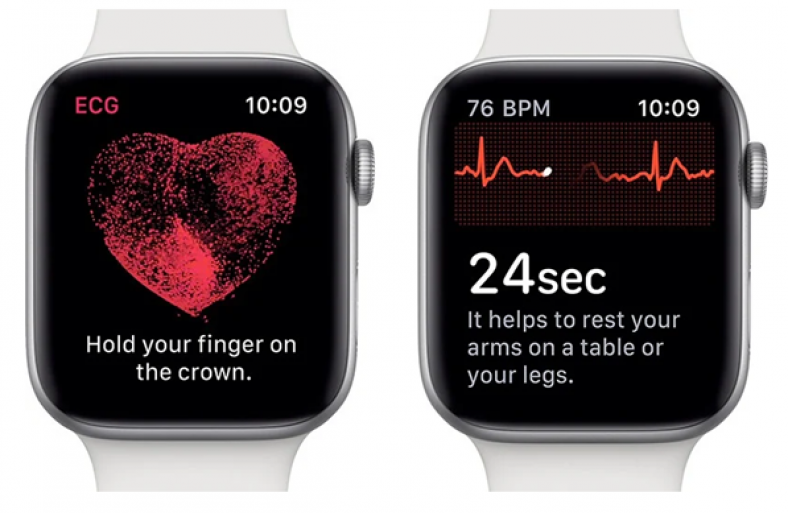 When it comes to health features, there isn't much difference between the Series 6 and the Series 5. All expect the new blood oxygen monitoring feature can be found in Series 5.
The Series 6 features an optical heart rate sensor that will monitor, track and calculate metrics like resting heart rate and calorie burn.
This smartwatch will detect low, high, and abnormal heart rates and send a notification when anomalies are detected.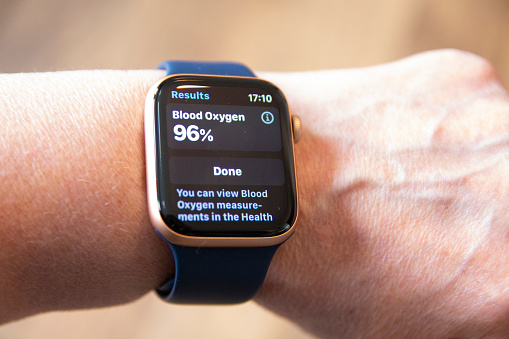 In addition, is an electric heart rate sensor that can take an electrocardiogram. The Series 6 uses LED and infrared light to track blood oxygen monitoring.
Other sensors like an accelerometer and a gyroscope offer extra health-related features like fall detection.
Blood Oxygen Monitoring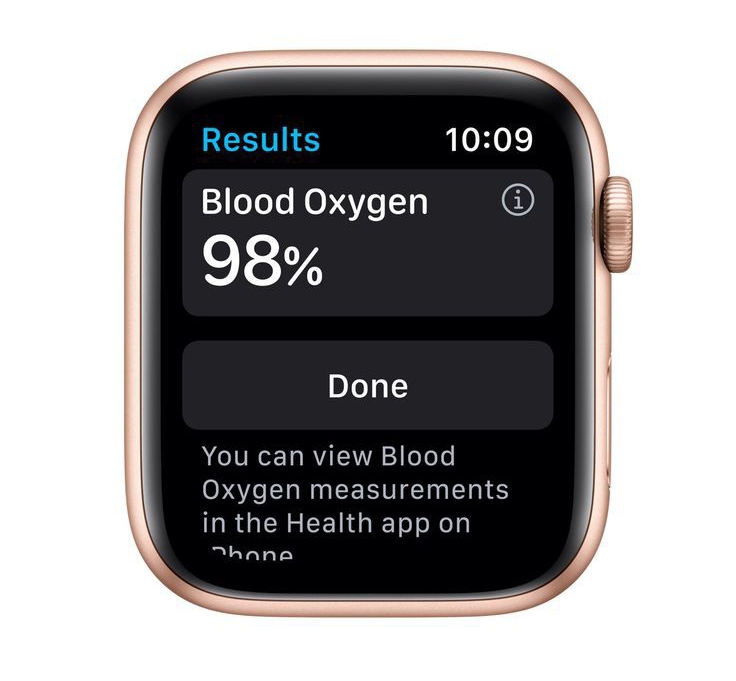 At the back of the Series 6 are sensors which activate the blood oxygen monitoring. Blood oxygen monitoring is a handy feature that would discover symptoms of health issues before they get too serious.
This feature will alert you if your blood oxygen saturation drops below 95 per cent which in most cases would signal a serious health issue.
The LED lights of green, red, and infrared shine onto your blood vessels while the photo-bodies measure the amount of light that is reflected back.
Based on these statistics, Apple's algorithms will calculate the colour of your blood which gives an indication of your oxygen levels. The Series 6 can measure blood oxygen between 70% and 100%.
You can take blood oxygen measurements on demand by downloading the Blood Oxygen app. When installed, all you need to do is open the app and tap the Start Button to begin the process.
It should last for about 15 seconds after which, you will be provided with a reading of your blood oxygen level. The data will also be stored in the Health app of your smartphone.
You can set up the smartwatch to take up blood oxygen measurements in the background. However, you should know that these measurements only happen when you stay completely still.
While taking the measurement, you will notice a bright light shine on your wrist as the LED and photo-bodies do their work.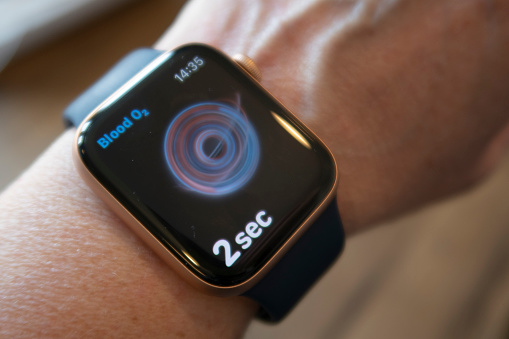 You can turn off background measurements in Sleep Mode and Theater Mode if desired. You can also set the smartwatch to take your oxygen level measurements while you sleep. To do so, you would have to enable the Track Sleep feature.
Note that while Apple says that its measurements are accurate, they should not be used for medical purposes as the feature was designed for fitness use.
An Electrocardiogram test would check for different heart conditions using electric signals. To perform such tests and record your heart conditions, the Apple Series 6 comes with electrodes at the back.
Using the Digital Crown, users can take single-lead electrocardiograms. All you have to do to perform the test is to hold a finger to the Digital Crown. A test result could be normal, abnormal or inconclusive and shown to your doctor.
The Apple Series 6 comes with a single-lead ECG which may not be the most accurate on the market. Your doctor could perform clinical electrocardiograms using 6 to 12 leads which is why it is recommended that you do not use the test results from your smartwatch in place of a clinical test.
However, ECGs via the Apple Series 6 offer the convenience of being able to check your heart condition anytime and anywhere in about 30 seconds.
Sleep Tracking
The Apple Series 6 can track your night's sleep and you will receive data on your sleep duration each night. This feature could help improve your night's sleep.
Battery Life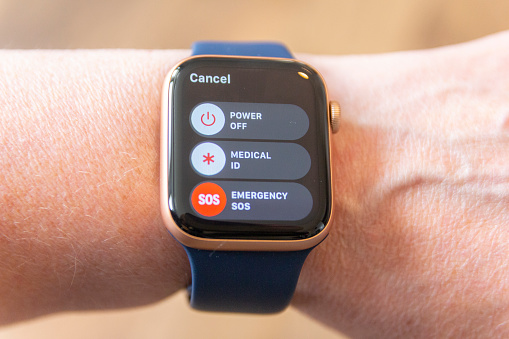 Regardless of the size, the Apple Series 6 would offer an all-day battery talk time of 18 hours. However, you should only take this claim with a grain of salt.
While the new Apple Watch would charge faster, it has got some steep competition in the area of battery life. The 44mm Apple Watch features a 1.17Wh battery while the 40mm Apple Watch features a 1.024 battery.
Both are bigger than what you would find in the Apple Series 5, however, they do charge faster. You can get a full charge out of the batteries in just 1.5 hours compared to 2.5 hours in Series 5.
While Apple says you should expect 18 hours of battery life, the battery would drain a lot faster while using some features. You can enjoy at most 8 hours of battery life streaming audio over LTE.
but you would get up to 11 hours of audio playback from storage. The LTE talk time is the worst with only 4 hours of use available. While these are just estimates, you should take them quite seriously if you're a heavy user.
Luckily, the speedy charging time means you won't have to worry about the watch draining too fast. Plugging it in for just an hour would get it up to 80 per cent but if you want a full charge, then you need to leave charging for about an hour and a half.
Connectivity
Apple Series 6 is equipped with a bunch of connectivity options that allow for a more user-friendly experience. You will find GPS models and GPS + Cellular models.
Models with cellular connectivity come with a built-in LTE chip. These models can connect to LTE without tethering from an iPhone. It won't also require a WiFi network for an internet connection.
However, the LTE connectivity would require an iPhone cellular plan to connect with or you won't get any internet connectivity.
There is also a U1 Chip in the Apple Series 6 that offers support for short-range wireless like car keys. Another impressive perk is the international Emergency SOS feature that comes with LTE connectivity.
With this smartwatch, you can make calls to emergency services regardless of the country you purchased the watch from.
This means if you purchase the watch in a certain country and you're injured while on vacation in another country, you can automatically call the country's emergency services and have them come to your aid.
Sensors
Sensors are one of the most important parts of any smartwatch as they allow you to do more and track many more metrics.
Fortunately, Apple doesn't fail to impress in this area as you will find a lot more sensors than you would need.
The Series 6 also comes with a fall detection feature that works together with the Emergency SOS feature. This feature would automatically place an emergency call if it senses the downward motion or fall of the user and the lack of movement afterwards.
You will also find a gyroscope and a battery-efficient barometric altimeter. This tracks your exercises when moving up like the elevation gained when climbing or the flight of stairs climbed.
What's more, you will find a built-in compass which can be synchronized with a Compass app to let users check details on their heading, latitude, and longitude.
Apple Watch 5 vs 6:
Preview
Best Budget
Editorial Choice
Title
Apple Watch Series 5 (GPS, 44MM) - Space Gray...
Apple Watch Series 6 (GPS, 44mm) - Space Gray...
Best Budget
Preview
Title
Apple Watch Series 5 (GPS, 44MM) - Space Gray...
Editorial Choice
Preview
Title
Apple Watch Series 6 (GPS, 44mm) - Space Gray...
Apple Watch Series 6 Reviews; Final Verdict
The Apple Watch Series 6 is currently, the best smartwatch on the market for iPhone owners. It would integrate faster with the iPhone and it is much faster than many other models from competitors.
It is also extremely comfortable to wear with a stylish design that could align with your fashion choices. In addition to its appealing design are meaningful software upgrades and a nice set of features.
It supports third-party apps and the battery won't go off too quickly. Maybe the best feature of the Apple Watch Series 6 that outclasses others is its health-tracking functionality.
It is quite easy to use, understand and best of all, it is accurate.
There is not much to go with when it comes to sleep tracking and that's if you're comparing it with the competition.
Apple fitness tracking features also get a thumbs up and its new blood oxygen sensor is a nice upgrade, to say the least.
Last update on 2023-10-09 / Affiliate links / Images from Amazon Product Advertising API