Last Updated on 1 year by On Trends Gear
Subscription Boxes For Men is a perfect gift to give a family member or friend. There are many options of man gift boxes including lifestyle boxes, grooming boxes, project boxes, and DIY boxes you could go with.
There are also many man boxes gift options for boyfriends and husbands. These man boxes gift ideas can be given to a family member, friend, husband or boyfriend.
One thing we LOVE about Men's subscription boxes? They are incredibly thoughtful gifts, even if you don't remember to buy them until the last minute!
We rounded up the BEST subscriptions to gift this holiday season, including our readers' favorite brands – Winc, Bespoke Post, FabFitFun, and so many more!.
Men's subscription boxes have come a long way in the past few years. These are the best options to give as gifts or buy for yourself.
In this article, we are going to share several On Trend Subscription Boxes For Men.
Check out our Perfect Last Minute Men's Subscription Box Gifts
Gift Box For Him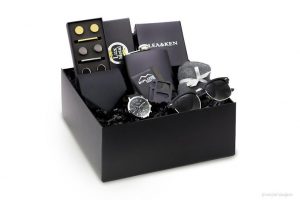 The Gift Box For Him could just be the perfect gift for a family member, friend or coworker. It will cost you a little more than most gift boxes, however, every gift inside the box is worth the money.
It comes with men's watch, sunglasses, flask, tie, cufflinks, tie clip, and multi-tool. You can gift someone this gift box as a birthday gift, groomsman proposal gift or a gift for father's day.
This gift box contains every essential any man would need making it a great gift for any occasion.
Buy the Gift Box For Him here
Basic Man Boxes Gifts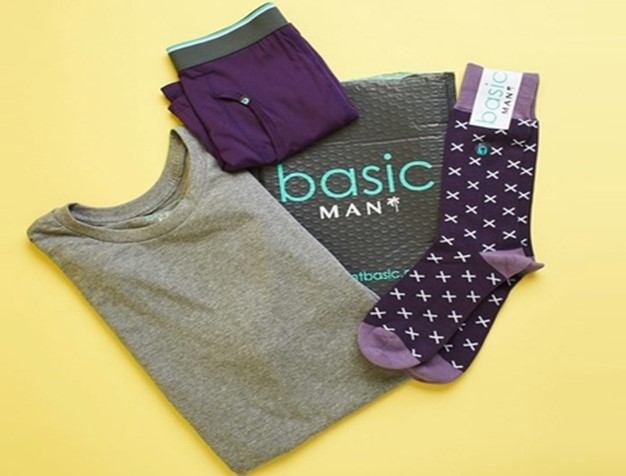 Cratejoy's Basic Man subscription box includes the essentials needed by any man. It makes for a great gift box that you can send to someone you care about.
You can also renew the subscription every month so that the person gets the gift every month.
Included in the Basic Man subscription box are a new t-shirt, a pair of socks, and a pair of boxer-briefs.
Their products are made from high-quality fabrics and offer the best value of your money.
You can get the Basic Man Gift Box here.
All He Loves Box
All He Loves is another man gift box from cratejoy. This gift box costs a little more than the previous one and that is because it contains more products for men.
The gift box is a premium lifestyle box with just the right products for men's everyday lives.
Included in this gift box are tech accessories like earbuds and headphones, gadgets, everyday carry gear, and a gourmet food item.
You can get the All He Loves Box here
Winemaking Kit Subscription Boxes For Men Gifts
Craft a Brew Home Pinot Grigio Making Kit - Easy Beginners with Ingredients and Supplies - Ultimate Wine Brewing
2 new from $65.99
Free shipping
as of December 8, 2022 4:57 am
Features
COMPLETE BEGINNERS WINE KIT – You don't have to be a master vintner or expert to create the perfect wine. We provide it all, with enough ingredients and supplies for 1 gallon (or 5 750mL bottles) of exquisite, delightful flavor.
GREAT GRIGIO – The varieties of the Pinot Gris grape are difficult to master, but we've provided you with pleasant grapes from the famed Italian wine country for a Pinot Grigio like no other.
HOMEBREWING INGREDIENTS – Enjoy a recipe involving high-quality yeast, additives, and fruit juice from some of the world's most respected vineyards so you can enjoy delicious wine in the comfort of your own home.
DIY HOMEMADE STARTER KIT – Whether you drink from the bottle or the bucket, make sure you're drinking quality wine made from top-notch supplies, including our carboy, funnel, tubing, airlock, Guide to Making Wine, and more.
CRAFT A BREW QUALITY – All the supplies and equipment in our win making kits are assembled by hand in Orlando, FL instilled with the core values of providing high-quality ingredients, elegant and effective design, and an environmentally sustainable mindset. Enjoy a glass the right way with your own Craft a Brew kit.
The winemaking kit features the best tools for making really great wine. If your man or family member loves to make wine, then this gift box could be the perfect gift for him.
Included in the box are.
A Guide to Making Wine
Funnel
Racking Cane
Rubber Stopper
Transfer Tubing
Tubing Clamp
Airlock
1-gallon glass jug (carboy)
Cabernet Sauvignon Juice with Yeast, Oak, and Additives
5 Zork Bottle Closures
Sanitizer
The only problem with the Make Your Own Wine Kit is that it does not ship in a crate.
However, the tools including the Guide to Making Wine is just perfect to help you make great wine.
You can get the Make Your Own Wine Kit here.
Beard Wrangler Mini Crate
Upgraded Beard Care Kit for Men Beard Growth Grooming & Trimming with Beard Shampoo Wash, Beard Oil Conditioner, Christmas Ornaments, Balm Wax, Brush, Comb, Scissors, Perfect Xmas Gifts for Him Dad
4 new from $22.90
Free shipping
as of December 8, 2022 4:57 am
Features
COMMAND ATTENTION WHEREVER YOU GO - A perfect groomed beard will make you stand out from the crowd! The confidence you will get can make you conquer every goal. This kit perfect for all type of beards or mustaches, Long, short, thick, thin,coarse, tangled....you name it!
STOP SEEKING, THE BEST IS RIGHT HERE - Why still looking around, when everyone is saying this is the best Beard Care Kit to suit them the most. These unscented beard oil and beard balm both have organic ingredients to keep your facial hair and skin hydrated, moisturized, silky soft, healthy and groomed during a long day.
SEIZE ALL HER EYES AND THOUGHTS - With a perfect groomed beard she will soon know that you are the lion king of the Serengeti Prairie, 'just don't let other beard man knows'. The 100% Boar Bristle Brush is great to distribute oil, improve hair texture and styling.
GREAT GIFT CHOICE - This Beard Kit is a perfect present for a beard man on Birthday, Valentine's Day, Fathers Day, Christmas Day or any other special occasion. The stainless steel scissors and the wooden comb make your Grooming never easier.
INSTANTLY FALLING LOVE WITH OUR BEARD KIT - Add this to your Cart, bring it back, you will find this is a brilliant choice you have ever made. We will provide you with the finest products and the best customer service.
Renegade Shave is just the perfect gift box for bearded men. A beard needs to be groomed properly for it to look neat and clean.
Sometimes taking care of the beard can be too much work for a man and without the right tools, his beards will end up looking like a tangled monstrosity.
If the person you would like to give a gift box has a beard, then the beard wrangler mini crate might be the best choice for him.
In the gift box, you'll find
Renegade Beard Shampoo Bar
Renegade Beard Balm
Renegade Beard Oil
Boar-Bristle Beard Brush
Hand Towel
You can buy the Beard Wrangler Mini Crate here
Watch Making Kit
Vastar 151 PCS Watch Repair Kit, Watch Repair Tools Professional Spring Bar Tool Set, Watch Band Link Pin Tool Set with Carrying Case
3 new from $13.99
Free shipping
as of December 8, 2022 4:57 am
Features
The complete 151pcs watch repair tool kit suit for both professional and general use, solutions for most watch repair requirements, such as battery replacement, watch pin removal, watch cleaning
The Vastar new case opener adjustable up to 52mm, easy to open regular and oversized watches, perfect for watchmakers, collectors, durable, portable, practical, convenient and very easy to use
Updated a metal watchband remover, spring bar tool helps you get your watch problem done at home instead of going for watch repair shops
With an operation manual, the high quality watch case back opener set is perfect for professional and beginner to do common tasks like opening watch backs, watchband adjustment, changing watch batteries, gaskets, watch resizing, adjusting bands and more
Watch sizer adjuster tool comes with a black nylon carrying zipper case for the sake of convenient storage, easy to take care of them and get the job done by anywhere
A watch-making kit is a perfect gift for a Do-It-Yourselfer. This watch-making kit comes with all the right tools and instruments needed to put a watch together.
One thing you won't like about this kit is its hefty price tag. However, it comes with a lot of tools that should offer value for your money.
Some of the tools include inside Men's lifestyle subscription box
Seagull TY2806 Movement
Screwdriver Tool
Brass Movement Holder
White Dial and Hand Set
Blue Dial and Hand Set
Hand setting tool
Exhibition Case Back with O-ring
Crown/Stem Combo
Case Back Tool
Watch Case with Crystal
2 Strap Springbars
Blue Leather Strap
Brown Leather Strap
Hole Punch
Screw Rivet
Man Crates Watch Making Guide
The watch-making guide should make it easy to put the watch together perfectly.
You can buy the Watch Making Kit here.
Beard Care & Grooming Kit
GoldWorld Beard Grooming Kit w/Beard Oil,Beard Balm,Beard Brush,Beard Comb,Beard Ornaments,Beard Wash/Shampoo,Scissor,Shaping tool,Storage Bag,E-Book,Christmas Keychain,Beard Growth Care Gifts for Men
3 new from $16.91
Free shipping
as of December 8, 2022 4:57 am
Features
【A Completed Beard Gifts Set】:This is the only beard care kit that contains 2pacs beard wash. It is made from pure ingredients without any annoying ingredients,The complete beard set is perfect as a unique romantic and cool mens gifts ideas for Dad husband boyfriend mens boys teens adults on christmas,birthday,fathers day,valentines day.Top travel class gifts for men who have everything.
【Beard Growth Oil &Beard Balm】: Made from 100% pure ingredients, it softens the beard, regulates the skin, helps the beard grow, and makes the beard thicker and softer. It only takes a few drops to deeply moisturize the beard and make it look fresh and clean. Our beard balm is made of 100% pure ingredients. It moisturizes the beard and skin,reduces dandruff,and makes the beard grow healthily.
【Get Beard Shampoo】: You will get 2packs extra beard shampoo which is equal to 60ml x2 of the other guys liquid stuff priced 28 USD! You do the math! Stop Washing Your Face and Beard with Harsh Synthetic that stunt beard growth, our beard wash shampoo is promote beard growth,richly lathers to leave your beard strong,flake free and great looking! A No fuss beard care solution.
【Beard Comb & Brush & Trimming Scissors】: The dual sided comb is made of high quality sandal wood offering the best grooming experience with both its fine and coarse teeth for different hair types. Not likes the beard straightener, the boar bristle beard brush is Pocket-size, fits perfectly in your jeans' pocket or bag pocket, you can pull through oils and balms or groom your facial hair in anytime, anywhere. The stainless steel sharp scissor gives best trimming experience.
【Ebook &Storage Bag】: This e-book summarizes the experience of tens of thousands of bearded men, no need to look anymore, here is how to quickly grow and maintain beards.The storage bag is made of environmentally friendly materials and makes it easy to take on the road, or just keep an extra kit in the office
This grooming kit comes with more premium options. It includes a beard wash/shampoo, beard brush, beard balm, sharp scissor, beard comb and storage bag.
Compared to the first gift box for bearded men on our list, this kit is quite affordable.
It also comes with more beard grooming tools than the other one we listed. The reason for the cheap price of this kit is that some of the tools in it are offered for free.
So, you're simply paying less for more value.
You can get the Beard Care & Grooming Kit here.
Gentlemen's Hardware Shoe Polish Gift
Stone & Clark 12PC Shoe Polish & Care Kit, Leather Shoe Shine Kit with Brown Wax, Shoe Brushes for Polishing, Compact Shoe Cleaning Kit with Horse Hair Brushes & PU
as of December 8, 2022 4:57 am
Features
PREMIUM SHOE SHINE SET — Don't settle for less than the best when it comes to your shoes. Preserve and protect your expensive leather footwear with this shoe polish kit.
STYLE ESSENTIALS — Use this care kit for leather shoes to polish scuffs, condition deep scratches and cracks, and buff your shoes to an elegant glossy finish.
ON-THE-GO-CARE — Enclosed in a sturdy PU leather case, this classic shoe shine kit is lightweight, compact and portable. Perfect for military, business and personal travels
COMPLETE POLISHING KIT — This shoe shine kit includes two wooden brushes with horse hair, neutral, black and brown wax polishes, a buffing cloth, a shoe horn, and shine sponges.
GIFT SOLUTION — Looking for a unique gift? Nothing says it like shiny shoes! Gift this professional shoe shine kit for father's day, birthdays, holidays or even as a groomsmen gift. Or, just treat yourself.
Every gentleman who owns a pair of nice shoes will need high-quality shoe polish to keep them at their best.
This is why the gentlemen's hardware shoe polish gift makes for a great man gift box to give to just about anyone.
Inside this kit, you'll find
Black Shoe Polish Tin
Neutral Shoe Polish Tin
Ultra Soft Shine Cloth
Hard-Bristled Cleaning Brush
Soft-Bristled Shining Brush
You can buy the Gentlemen's Hardware Shoe Polish Gift here.
Wrapping Up On Trend Subscription Boxes For Men.
We consider these to be the On Trend Man Boxes Gifts in 2019. While these gifts ideas are loved by almost all men, you should first consider what the person you want to give the gift to would like before going ahead with it.
With our list as a guide, you can start shopping for the right man gift boxes for that special someone.