Last Updated on 1 month by On Trends Gear
The vast majority of us watch television at home to keep up with our favourite shows, documentaries, sports, and other forms of entertainment.
Most of us probably don't give much thought to the technical details behind how our favourite shows manage to seem so stunning on the screen.
How your TV is lit and whether it has local dimming technology—which dims the dark parts of the screen while keeping the bright parts bright—will determine the answer. 
Impact-Site-Verification: fc741641-db4f-4c61-bf7d-bf0f8668ede0
Learn more about the difference between Local Dimming vs Full Array in this detailed article.
What Is Full-Array Local Dimming?
Full array dimming describes a display that uses a large number of small lights directed to your eyes through the panel itself.
It might be difficult to tell, either on an individual basis or when comparing different TV models, how many little light LED zones are there.
Zone information is rarely provided by TV makers. There is a certain area of the display reserved for each zone. The effect of local dimming is to make smaller things look dimmer than they are.
If one region is illuminated while another is not, a halo or bloom will appear around the illuminated region.
This phenomenon, known as "blooming," happens when one area of the screen becomes noticeably brighter than its surrounding areas.
Therefore, a bigger number of the aforementioned little light zones means a more precise and uniform final image.
Info On What Is Local Array Dimming On TV
With local dimming, the LED backlights of a television are separated into separate "zones" that may be dimmed independently of one another.
The blacks may be made to appear deeper by turning down the LEDs in the zones behind the darkest sections of the picture, while the LEDs in the zones behind the brightest parts of the image can be cranked up.
When watching movies in a dark setting, local dimming's effect of increasing the contrast ratio of LED TVs becomes more apparent.
Light from the room will reflect off your screen, making the blacks look fairly dark.
However, HDR (high-dynamic range) material will also seem better since local dimming boosts the brightness of highlights.
However, not every LED TV is the same. Depending on the type of LED TV you have, local dimming may potentially degrade the appearance of the picture.
I have also put out some links to some great TVs with full-array LED lighting should you decide to buy a Full array LED television:
Preview
Sony TV
Hisense TV
LG TV
Sony TV
Preview
Hisense TV
Preview
LG TV
Preview
Function Of Local Dimming On TV
Local dimming is a TV technology that improves picture clarity by changing the brightness of certain areas on the screen.
This makes blacks darker, whites brighter, contrast better, and images look more real.
This is especially helpful for showing High Dynamic Range (HDR) material, saving energy, and keeping edge-lit LED TVs from leaking light.
Different TV models and their implementation types can have different effects on how well local dimming works.
For better picture quality, full-array local dimming gives you more accurate control over each zone.
Full Array Local Dimming Vs Direct-Lit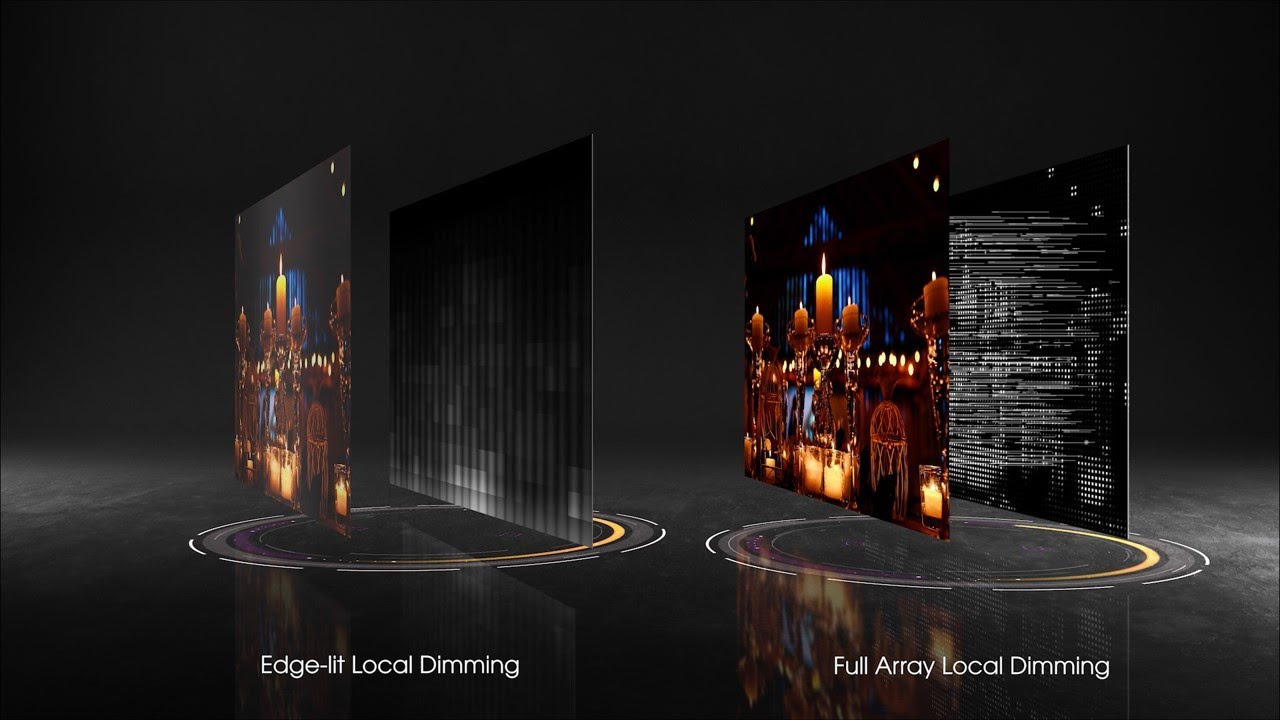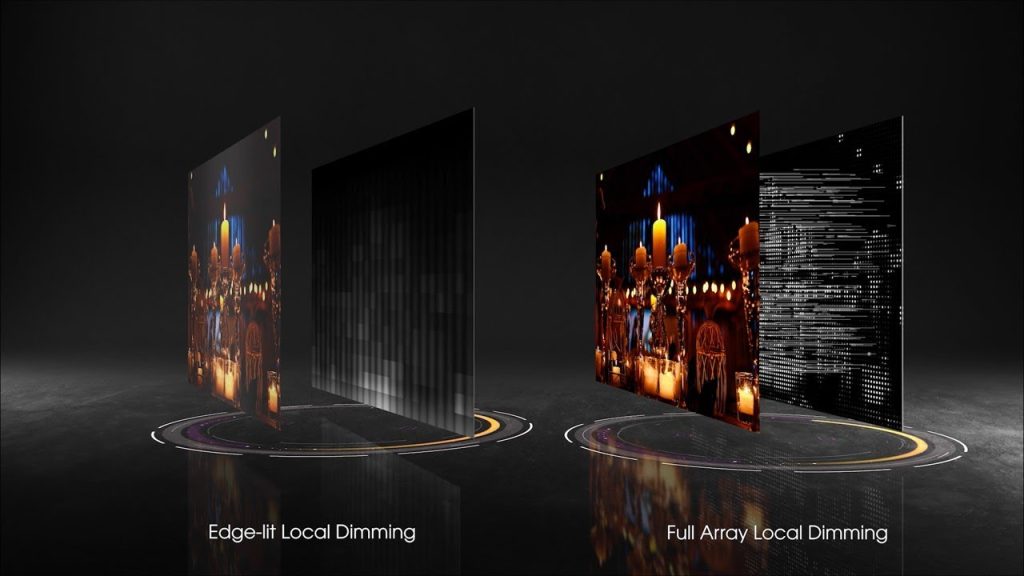 The television's screen is illuminated by a combination of a Full Array and Direct-Lit backlights mounted behind the LCD panel.
Given that Full Array is essentially a perfected version of Direct Lit, it naturally produces superior results in terms of image quality, including more vibrant colors and more contrast.
Direct-lit panels in TVs achieve uniform illumination throughout the LCD screen through the employment of a small number of LED lights.
While this improves color accuracy and viewing angle, it does little to boost color contrasts beyond turning down the lighting.
To achieve great brightness contrast and even more vibrant colors, Full Array backlights are constructed with LED light segments covering the full panel and adjusted dynamically.
Elevated dark levels caused by direct lighting are eliminated.
Edge Lit And Full Array Dimming? Different & Similarities
Similarities
Even though they are different, edge-lit and full-array backlighting are both popular types of backlighting used in LED-backlit LCD screens, so they do have some things in common.
Here are some things they have in common:
Main Use: LED-backlit LCD screens in TVs and computers are lit up with either edge-lit or full-array backlighting.
Open Format: These two technologies are both "open formats," which means that different TV and monitor makers can use them.
Changes Made to Technologies: Edge-lit and full-array backlighting have helped make TVs, desktop monitors, laptop screens, and other display technologies better by boosting picture quality and contrast.
Differences
For a long time now, edge-lit televisions have been the preferred option for consumers, and they remain the most generally available model.
They use LEDs placed around the television's bezel and aimed at the screen's center to provide illumination.
When it comes to local dimming, they typically can only darken large sections of the screen rather than the pinpoint dimming possible with Full Array.
Full Array LED TVs include an abundance of LEDs strategically placed across the back of the device.
In addition, Full Array TVs' local dimming is often more concentrated and precise than that of Edge Lit TVs.
The enhanced contrast, brightness, and depth of the resulting images create the impression that they are leaping off the screen at you.
In this comparison between Full Array LED and Edge Lit models, the former comes out on top.
Even if a Full Array TV is beyond your price range or if you don't want or need a Full Array TV for your home or company,
an Edge Lit TV will still do an excellent job of producing clear, rich, and visually appealing images.
Conclusion
The local dimming features of LED TVs can be used to raise the contrast ratio.
Some parts of the LED lighting under an LCD screen can be turned off, or dimmed, by local dimming. This makes blacks look darker and whites look brighter.
Local dimming can be bad for some TVs because it can make bright areas bloom or light up whole areas when there is a small object.
It looks like only the cheapest TVs will have problems with local dimming. Other than that, most new TVs do a good job of improving picture quality in dark scenes.
Last update on 2023-10-09 / Affiliate links / Images from Amazon Product Advertising API