Last Updated on 1 month by On Trends Gear
Have you ever experienced the frustration of encountering a TCL TV Black Screen?
 It's an issue that can occur for reasons, especially when you're in the middle of binge-watching your favourite shows. 
Don't fret because you're not alone! In this article, we will explore some solutions to resolve the black screen problem on your TCL TV.
Before diving into the solutions, let's look at some of the causes behind this issue.
Possible Causes of TCL TV Black Screen Glitch
1. Signal Loss
One of the common triggers for a black screen is a loss of signal.
 This can transpire when the primary device, like a cable box, streaming device, or gaming system, fails to communicate the necessary signal to the TV. 
A severed connection between the devices can plunge your screen into darkness, leaving you without visual content.
2. Faulty HDMI Cable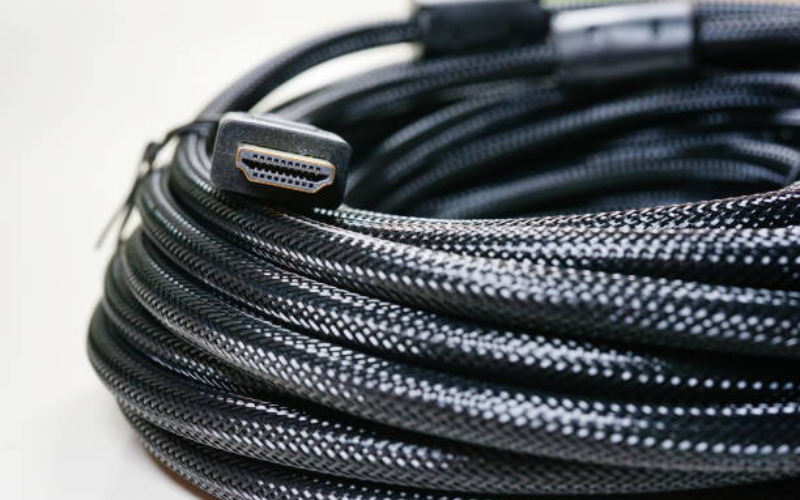 The reliability of an HDMI cable is essential in maintaining a seamless audio and visual experience.
A damaged or malfunctioning HDMI cable can disrupt the signal flow between your TV and external devices, leading to a black screen. 
Ensuring the integrity of your cables is essential to prevent this issue.
3. Component or Power Source Issues
Intricacies within the TV's hardware components or its power source can contribute to a black screen dilemma.
A glitch in the TV's components or a power source hiccup can impede the screen from displaying content, resulting in a frustrating blackout.
4. Software or Firmware Glitches
Internal software or firmware irregularities within the TV can also be responsible for a black screen.
These glitches might occur due to outdated software or unexpected TV operating system malfunctions.
In such cases, the TV fails to correctly interpret and display the incoming signal.
How To Fix a TCL TV with Black Screen 
Our first solution involves a power cycle – a tried and tested method to revive many electronic devices, including your TCL TV.
Here's how to do it:
Unplug the TV: Locate the power wire attached to your television. Find where it's plugged into the wall and carefully pull it out. This step is essential because it helps restart the TV all the way.
Locate the power button: There's a good chance your TV has an actual power button, even if you can't find your TV remote. This button could be right in the middle of the TV's front.
Press and hold the power button down: Count slowly to sixty in your head. Let go of the power button after the right time.
Plug your TV back in; Return to where you removed the plug and reconnect it. Ensure the plug or strip of plugs is switched on.
Turn it on: Locate the power button again and press it. If a small problem causes the black screen, your TV should return to life. It might take a while, but soon, you should start hearing sounds and seeing pictures on the screen.
Keep up with it if the first attempt at it is unsuccessful. Make another attempt, and if necessary, even a third one.
Specific issues can only be resolved entirely once further work is done.
If none of the others are successful, there is one more option for you to consider. How it works is as follows:
Unplug the TV: Just like before, unplug your TV from the power source. This is the first step to getting it ready for a fresh start.
Be Patient: This step requires a bit of waiting. Leave your TV unplugged for a while. It's like giving it time to relax and let go of any extra energy. You can let it rest overnight, or if you're feeling extra patient, wait a whole day – that's 24 hours.
Plug It In Again: Plug Your TV back in once the waiting period ends.
Turn It On and Test: Press that power button and see if the black screen is gone. Sometimes, this little break can do wonders, and your TV might be back in action.
5 Quick TLC TV Black Screen Repair Method
If you still can't get your TV to power on, try these five simple methods to fix this issue and get the TV up and running again.
1. Change Remote Batteries
Sometimes, you only need a fresh set of batteries for your remote.
Swapping them out might power your TV back on. Give this a shot, as it's a quick and easy fix.
2. Disconnect for 60 Seconds
If swapping batteries doesn't yield results, disconnect your TV from the power source and wait 60 seconds.
After that, reconnect it. Maintaining patience and waiting for the entire duration is essential.
This technique varies from the simple use of the remote to power your TV on and off.
3. Perform Hard Reset – Hold the Power Button
If the previous approach proves ineffective, attempt a hard reset.
Once more, disconnect your TV, then press and hold its power button for 30 seconds.
This action will completely deplete any remaining power within the device. Reconnect the TV and try powering it on. If successful, you're all set.
4. Change Wall Outlet
Sometimes, a specific wall outlet can be faulty. Plug your TV into a different outlet to get the correct power source. This step can rule out power supply issues.
5. Check Cables
Inspect all the cables connected to your TV, including the power and HDMI cables. Ensure they are securely plugged in.
Loose connections can prevent your TV from receiving the necessary power and signals.
Conclusion
The solutions presented in this article will enable you to do a series of tests, ending in a complete factory reset, to potentially fix the issue in which your TCL TV displays a black screen.
You might want a new TV if none of these solutions eliminates the black screen.
But before you do that, give TCL television support a call; this will allow you to verify your warranty and determine whether or not any costs associated with repairs or replacements are covered under the terms of your warranty.
Our Recommended Best-Selling TCL Television
Last update on 2021-09-30 / Affiliate links / Images from Amazon Product Advertising API