Last Updated on 3 years by On Trends Gear
While gaming console controllers perform well in racing games, racing wheels offer a more lifelike experience than the typical PS and Xbox controllers.
They allow you to turn and accelerate as if you're in a supercar on a high-speed chase which makes for a thrilling gaming experience.
When going for a racing wheel, there are many factors to consider. Vibration & force feedback, wheel size & rotation, and clutch & pedals are some of the important factors to take note of.
Another is compatibility. A racing wheel that is compatible with Xbox, PS, and PC is a better option than one that supports only one platform.
[wpsm_toggle title="Table Of Contents "]
[wpsm_titlebox title="Best Racing Wheels" style="4″][wpsm_toplist][/wpsm_titlebox]
[/wpsm_toggle]
Below are the top-rated steering wheels compatible with Xbox One, PS4, and PC.
Fanatec Forza Motorsport Racing Wheel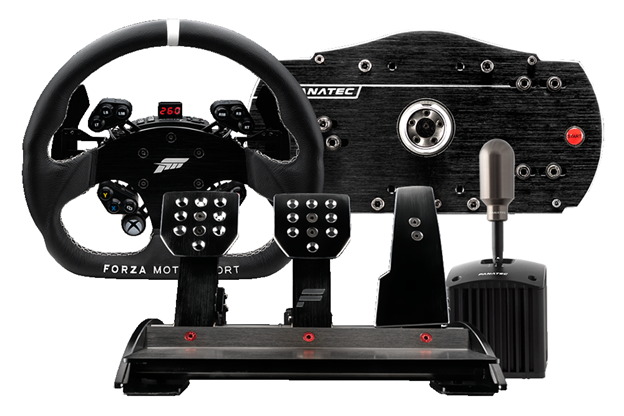 The Fanatec Forza Motorsport Racing Wheel is the perfect racing wheel for hardcore gamers looking for the most realistic gaming experience, regardless of the cost.
This racing wheel comes with a pedal bundle with unlimited customizations that allows for easy adjustment.
It also features the DirectSensor technology which allows for supreme precision and brushless servo motor which creates unmatched force feedback, Lastly, its metal-made three-pedal set allows for exceptional responsiveness and high versatility.
Pros

Exceptional features
Durable
High customization
Cons

Fanatec Forza Motorsport Racing Wheel and Pedals Bundle for Xbox One and PC
out of stock
as of December 4, 2022 8:29 pm
Features
Official Forza Motorsport Racing Wheel comes with authentic and luxurious material with diameter like in a real race car
The rim is made in brushed, anodized Aluminum and covered in genuine smooth leather with white stitching
Nothing makes you faster than a set of good pedals - that's why we included The ClubSport Pedals v3!
The ClubSport Wheel Base V2.5 is a masterpiece of Germaneering and sets new standards for performance and reliability
Change the steering wheel in seconds with our proven automotive grade quick release system - even during gameplay
Thrustmaster TX RW Leather Edition
A less-expensive racing wheel with almost the same amazing features is the Thrustmaster TX RW Leather Edition. This racing wheel offers the same high precision and responsiveness without latency as the Fanatec Forza Motorsport Racing Wheel.
It also allows for wide-angle wheel rotation. Best of all, it is compatible with the primary gaming platforms.
Compared to the Fanatec Forza Motorsport Racing Wheel, this racing wheel is a good option with an affordable price tag.
Pros

Lightweight and durable pedals
Allows for a realistic racing experience
Exceptional force feedback
Cons

Requires adjusting for every game
Thrustmaster TX RW Leather Edition (XBOX One/PC)
12 new from $499.99
1 used from $679.93
Free shipping
as of December 4, 2022 8:29 pm
Features
Thrustmaster is offering, in a single, limited edition package, a set of incredibly precise racing controllers, favored by racers for their ability to deliver unrivalled immersion in the world of racing simulations for PC and for Xbox One, as the official license guarantees
Works on Xbox Series X
Hand-stitched leather wheel: Detachable / 11"/28 centimeter in diameter, hand-stitched leather
TX SERVO BASE: Next-Gen 900° force feedback, Brushless servo motor, Dual-belt mechanism, H.E.A.R.T Technology
T3PA 3-pedal pedal set: Fully adjustable, Conical Rubber Brake Mod included
Hori Racing Wheel Apex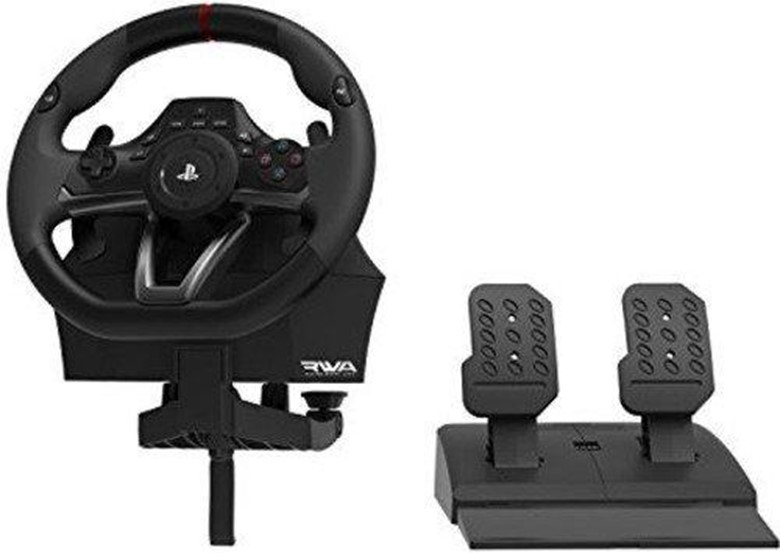 The Hori Racing Wheel Apex is a low-cost racing wheel perfect for casual racers. It comes with a limited turn radius that doesn't make for the best realistic racing experience, but it does better than gaming pads.
The Hori Racing Wheel Apex is compatible with your PS and PC.
In addition, it offers USB connectivity and a high-quality build that should last you through years of use.
Pros

Affordable
Compatible with most gaming platforms
Quality build
Cons

Limited turn radius
No force feedback
HORI Racing Wheel Apex for PlayStation 4/3, and PC
3 used from $139.98

as of December 4, 2022 8:29 pm
Features
Officially Licensed by Sony
Compatible with PlayStation 4, PlayStation 3, and PC
Optimized performance on select PS5 titles with firmware update
Full-size racing wheel and pedals optimized for authentic racing simulation
270 degree turn radius with adjustable output options
Thrustmaster TMX Force Feedback Racing Wheel
For gamers looking for a realistic gaming wheel that won't cost a fortune, the Thrustmaster TMX Force Feedback Racing Wheel is the best option. It does come with wide-degree wheel rotation and is compatible with most gaming platforms.
This racing wheel comes with most high-end features even at its low price, however, it's frame is made out of plastic which doesn't make the most durable racing wheel. It also features a force feedback system due to its mixed belt and gear system.
Overall, this racing wheel ticks the right checkboxes and should perform perfectly for most gamers.
Pros

Tons of features
Powerful force feedback
Great racing experience
Cons

Thrustmaster TMX Force Feedback racing wheel for Xbox One and WINDOWS
15 new from $246.99
2 used from $209.99
Free shipping
as of December 4, 2022 8:29 pm
Features
Works on Xbox Series X|S
Realistic wheel: wheel rim is 11 inches / 28 cm in diameter, with an ergonomic design that's great for all types of racing games
Up to 900° wheel rotation, for optimal racing precision
Responsive, precise and silent Force Feedback, thanks to the belt-pulley system in the racing wheel's base
Optical reading: 12-bit resolution ensures accurate in-game reproduction of all wheel movements (4,096 values on the steering axis)
Thrustmaster T150 RS
The Thrustmaster T150 RS is another racing wheel that offers good performance at a low price. Though the T150 RS features a slightly reduced force feedback and fewer fancy features than most premium racing wheels, it does well in other major areas.
It comes with wide –degree wheel rotation and multi-platform compatibility
Pros

Affordable
Multi-platform compatibility
Powerful force feedback
Cons

Thrustmaster T150 RS Racing Wheel for PlayStation4, PlayStation3 and PC
12 new from $179.99
7 used from $148.44
Free shipping
as of December 4, 2022 8:29 pm
Features
Official Racing Simulator for PS4 and PS3 (also compatible with PC); 1080 degree force feedback racing wheel; Built-in PS4/PS3 sliding switch; Realistic 11"/28 centimeter wheel; Large pedal set included
PlayStation4-certified embedded software and PS4/PS3 sliding switch; Official embedded software: The racing wheel is automatically recognized by the PS4 console; PS4/PS3 sliding switch for optimal compatibility on both systems
1080 degree force feedback base featuring Immersion Touch Sense technology; Drive system with adjustable force feedback lets you feel every detail while you're racing (the road or track's relief, loss of tire grip, braking, bumps and impacts, etc.)
Realistic wheel with built-in official buttons for PlayStation4 (PS/Share/Options); Access social functions, switch between the game and the system, navigate through the console's menus, etc.
Large, optimized pedal set; Pedals with wide foot rest; Each pedal's angle of inclination can be adjusted; Brake pedal with progressive resistance. Compatible with Thrustmaster accessories: Like the T3PA and T3PA-PRO (Thrustmaster 3 Pedals Add-on) pedal sets; as well as with the Thrustmaster TH8A shifter
Doyo Racing Wheel
The Doyo Racing Wheel is one of the best options for gamers looking for a racing wheel compatible with all primary gaming platforms. It supports PC, PS3, PS4, XBOX One, XBOX 360, or Nintendo Switch.
Aside from this feature, the Doyo racing wheel also comes with other impressive features like double vibration motors, wide-degree wheel rotation, programmable buttons, and sensitivity adjustments.
At a more affordable price, this racing wheel will meet your gaming needs and give you a thrilling and realistic racing experience.
Pros

Affordable
Tons of features
Cross-platform compatibility
Cons

Build quality could be improved
DOYO Pro Sport Steering Racing Wheel for PS3/PS4/XBOX One/XBOX 360/SWITCH/PC/Android
out of stock
as of December 4, 2022 8:29 pm
Features
| | |
| --- | --- |
| Part Number | 180B |
| Color | Black |
| Is Adult Product | |
Thrustmaster TX Racing Wheel Ferrari 458 Italia Edition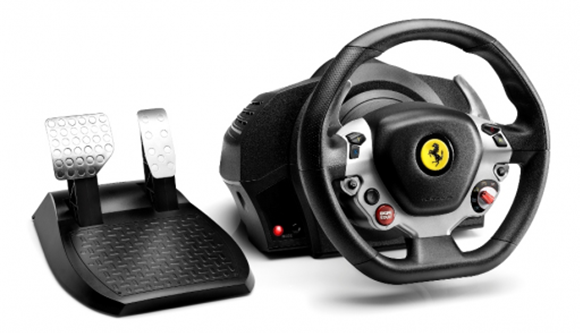 Gamers that are very particular about quality and performance and ready to spend a little bit more on a racing wheel can opt for the Ferrari 458 Italia Edition.
It comes with tons of high-end features like brushless force feedback motors, wide-degree wheel rotation, and H.E.A.R.T technology.
Pros

Impressive features
Brushless force feedback motors
High-quality build
Cons

Thrustmaster TX Racing Wheel Ferrari 458 Italia Edition (XBOX ONE/PC)
2 used from $503.99

as of December 4, 2022 8:29 pm
Features
New dual-belt, friction-free optimized mechanism
High-precision racing wheel base
Xbox Guide button
Thrustmaster Quick Release system: lets you quickly change racing wheels
Controller pairing to ensure correct detection of your racing wheel, the device's controller pairing (located on the upper section of the racing wheel's base) must always remain in the Kinect camera's field of vision
Logitech Driving Force G29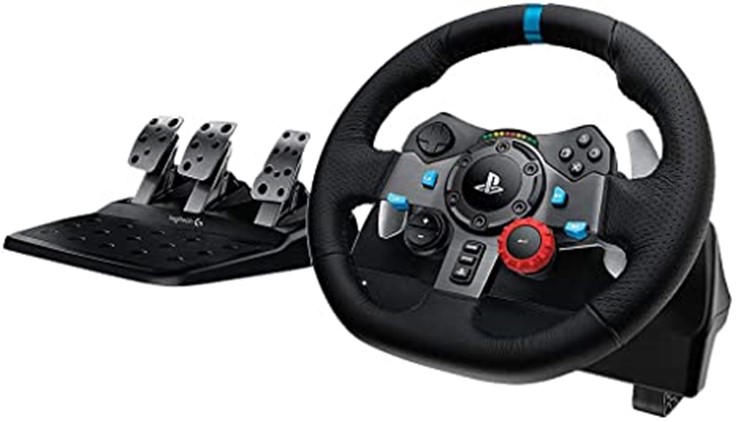 With its wide-degree wheel rotation, high build quality, excellent force feedback, the G29 makes for one of the best racing wheels for PC and PS.
It also comes with other features like a decent three-pedal base that offer great performance.
Pros

Highly durable racing wheel
Abundance of features
Good force feedback
Cons

Pedal grip should be improved
Logitech Dual-Motor Feedback Driving Force G29 Gaming Racing Wheel with Responsive Pedals for PlayStation 4 and PlayStation 3
18 new from $251.28
4 used from $229.99
Free shipping
as of December 4, 2022 8:29 pm
Features
Immersive Gaming Experience: Perfect for PlayStation 5, PS4 and PC gaming titles, the Driving Force simulates the feeling of driving a real car with precision steering and pressure-sensitive pedals
Premium Control: The Driving Force feedback racing wheel provides a detailed simulation of driving a real car, with helical gearing delivering smooth, quiet steering and a hand-stitched leather cover
Customizable Pedals: These pressure-sensitive nonlinear brake pedals provide a responsive, accurate braking feel on a sturdy base - with adjustable pedal faces for finer control
900-Degree Rotation: Lock-to-lock rotation of the Driving Force means you can turn the wheel around two and a half times, hand over hand on wide turns - just like a real F1 race car
Up Your Game: Take your racing simulation to the next level with Driving Force accessories like the Driving Force Shifter or desk and rig mounts
Thrustmaster T300 RS GT Racing Wheel
Though officially licensed for PS and PS4, the Thrustmaster T300 RS GT Racing Wheel is one of the best racing wheels any gamer can have.
It features an attractive design with s high build quality that rivals many other premium racing wheels.
Other impressive features include wide-degree wheel rotation, adjustable metal pedals, smooth wheel performance, and excellent force feedback.
Pros

Excellent build quality
Quality force feedback
Tons of features
Cons
Clutch requires a gearstick
Thrustmaster T300 RS GT Racing Wheel for PS4 and PC
9 new from $499.95
1 used from $625.00

as of December 4, 2022 8:29 pm
Features
Gran Turismo and Playstation4 / Playstation3 officially licensed racing wheel.
High-end racing simulator featuring 1080 Degree Force Feedback racing wheel industrial-class brushless motor Super smooth and seamless Force Feedback effect ultra-responsive
Detachable Racing GT Style wheel: 11" / 28 centimeter diameter racing wheel featuring a brushed metal central spokes. Reinforced rubber texture on the wheel's entire circumference.
GT EDITION PEDAL SET: 3 adjustable metal pedals included: Metal pedals, Accelerator and clutch pedals adjustable (height and spacing).
Works with PS5 games
Fanatec ClubSport Racing Wheel V2.5 GT
The V2.5 GT features a 12.9-inch wheel and brushless force feedback motors which allows for excellent racing performance. It also features a dual belt system attached to gearing with large ball bearings and multiple v-ribs.
Its dual belt system eliminates belt slippage and reduces drag allowing for the most thrilling gaming experience. The only drawback of this racing wheel is that it doesn't come with pedals even though it racks a high price tag.
Pros

Excellent features
Brushless force feedback
Durable build
Cons
Fanatec ClubSport Racing Wheel BMW
out of stock
as of December 4, 2022 8:29 pm
Features
The racing wheel is equipped with an exact replica of a BMW M3 GT2 race car steering wheel with identical size and materials
Our professional quick-release system allows quick in an instant changing the rims like in a real race car even during the game
With the tuning functions with LED display you can adjust settings independent from the game and during gameplay
Wheel rim is made of genuine Italian-made Alcantara. This material is easy to clean and provides sensational grip
The powerful brushless servo motor of the ClubSport Wheel Base v2.5 is incredibly smooth and delivers instant acceleration