Last Updated on 1 year by On Trends Gear
Getting a USB cable connected between your phone and TV might be challenging especially Connect Phone to TV with USB without WiFi,
 but it's necessary if you want to do things like watch Netflix, exchange images, or work from home. 
But it's not impossible. There are a few steps involved before you can successfully link or Connect Phone to TV with USB without WiFi.
All you have to do is choose the appropriate cable for the job.
The following guide will walk you through 5 ways you can connect your phone to a TV using a USB connection.
Why Use USB to Connect Your Phone to TV?
You may be wondering why you would ever need to utilize a USB to TV connection for your phone given that wirelessly reflecting the screen of a phone using casting is so common and simple.
You will be able to experience video and audio with reduced latency if you connect your television to your phone using a USB.
A USB connection, as opposed to a wireless arrangement, is what you will need if you want to mirror the display of your phone on television so that you may play games on it.
This drastically cuts down on latency. The same is true for viewing movies on a TV using a USB cord that is connected to the phone.
In addition, you will need to use a wired connection instead of a wireless one in circumstances in which you do not have access to Wi-Fi or have a poor wireless signal.
5 Ways to Connect Phone to TV with USB
#1. Simply Connect your Smart TV to a USB Port if you have one
You may use this approach if you have a contemporary smart TV and an Android phone that is capable of producing video output.
Once it is linked, the phone may act as a remote control and reflect the display on the other device.
After the device has been properly connected, you may be required to choose an input channel.
Please bear in mind that the functionality to produce video isn't included in all Android phones by default.
Additionally, it's possible that certain older smart TVs aren't compatible with Android smartphones and can only access the storage on such devices.
If such was the case, you should consider the following alternatives.
#2 Mirror Android to Laptop, then TV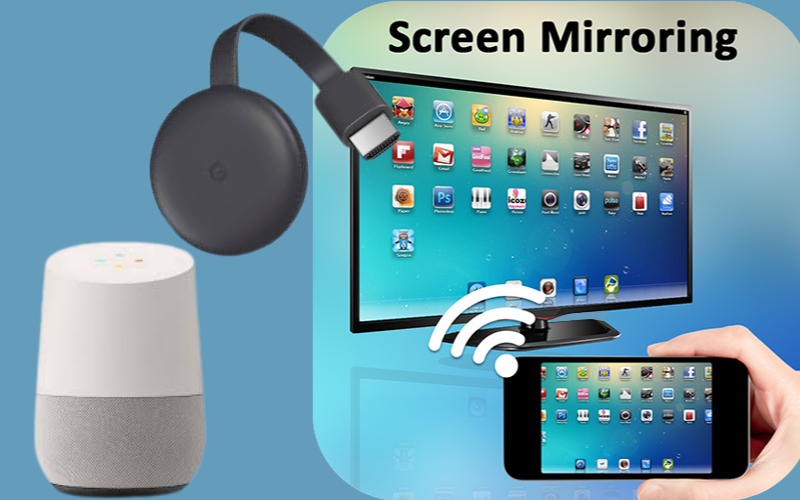 Using this approach, the video signal from your Android device is first sent to a computer or laptop, where it is processed;
The signal is then sent to the TV through an HDMI connection.
The following is a list of suggested mobile applications that are capable of doing the required tasks:
You must have Google Chrome installed on your computer to utilize this app since it is a Chrome-based service.
It was designed for mobile gamers who own a PC and want to play their games on a larger screen, but it also can mirror.
Connect the phone to the television using an HDMI connection after it has been linked to the PC. 
The majority of televisions available on the market today typically have an HDMI connector.
Now, on your computer, use the Window+P keyboard shortcut and choose the Duplicate option to broadcast the display of the phone to the TV.
#3 Using a USB Converter
Sale
Using a converter enables you to reflect the display of your smartphone onto that of your TV while also charging the device's battery.
This approach requires you to connect the converter to a USB-C port and an HDMI port using your charger and an HDMI cable.
Once this is done, your screen will be projected onto your TV for as long as you want it to be shown.
#4 Using MHL
Sale
A mobile device, such as a smartphone or tablet, may connect to a television via a protocol called Mobile High-Definition Link.
You will need an MHL-enabled and compatible phone or tablet, an HDMI cable, a power cable,
A USB to HDMI MHL cable or adapter, and a display that has an HDMI input to use MHL to connect your phone or tablet to a TV via USB.
The typical setup for utilizing MHL involves all of these items.
If your phone is compatible with MHL, you may link it to an HDMI MHL converter, then attach an HDMI cable, and finally connect it to your TV.
Because this kind of converter has a charging connector, you won't need to be concerned about the power on your smartphone or tablet running out while you view content on it.
#5 Using Slimport Hdmi Adapter
If you want to connect your smartphone or tablet to a television set via USB, one of the best options is the Mobile High-Definition Link (MHL) standard.
Alternatively, you can use a SlimPort cable, which, like MHL, transmits content from your device to the television set's screen but offers more flexibility in terms of output options.
Whereas both MHL and SlimPort are plug-and-play, SlimPort supports visual output through HDMI, VGA, DisplayPort, and DVI while MHL only supports HDMI.
This makes it suitable for a wide range of monitors, including analogue sets that lack digital inputs but have VGA.
There is also a difference between SlimPort and MHL in terms of power supply, with the former not requiring a power cord to operate while the latter requires one.
A monitor with an HDMI, VGA, DisplayPort, or DVI input, as well as a video connection, are all required to utilize SlimPort.
You may watch your screen on your TV by connecting the SlimPort adapter to your phone and your TV using the appropriate connection.
What Happens If My TV Isn't USB Compatible?
It is simple to install a USB port in a TV that does not already have one.
You may connect your phone to your TV with an HDMI to USB converter since most TVs come equipped with several HDMI connections.
Simply put your phone into the adapter's USB port, and then plug the HDMI end of the adapter into an available socket.
After that, direct your TV to the appropriate port, and proceed.
Conclusion
Although the procedure for connecting your smartphone or tablet to your television through USB differs depending on the device, the connection, and the display input,
it is not too difficult to do if you are aware of what is necessary and how to configure the connection.
Last update on 2021-09-30 / Affiliate links / Images from Amazon Product Advertising API