Last Updated on 2 years by On Trends Gear
A multi-screen can increase productivity, reduce stress, allow multi-tasking, and save time to create a better environment. 
Studies conducted by Jon Peddie Research technologies on multiple displays show that…
"A survey of over 1,000 end users found an average productivity increase of 42% when users worked with two monitors instead of one."
The Mobile pixels Duex Plus monitor is quite a wonderful invention.
It is very helpful and it is something you should definitely add to your collection to ensure complete efficiency.
What is Duex Plus Portable Monitor About?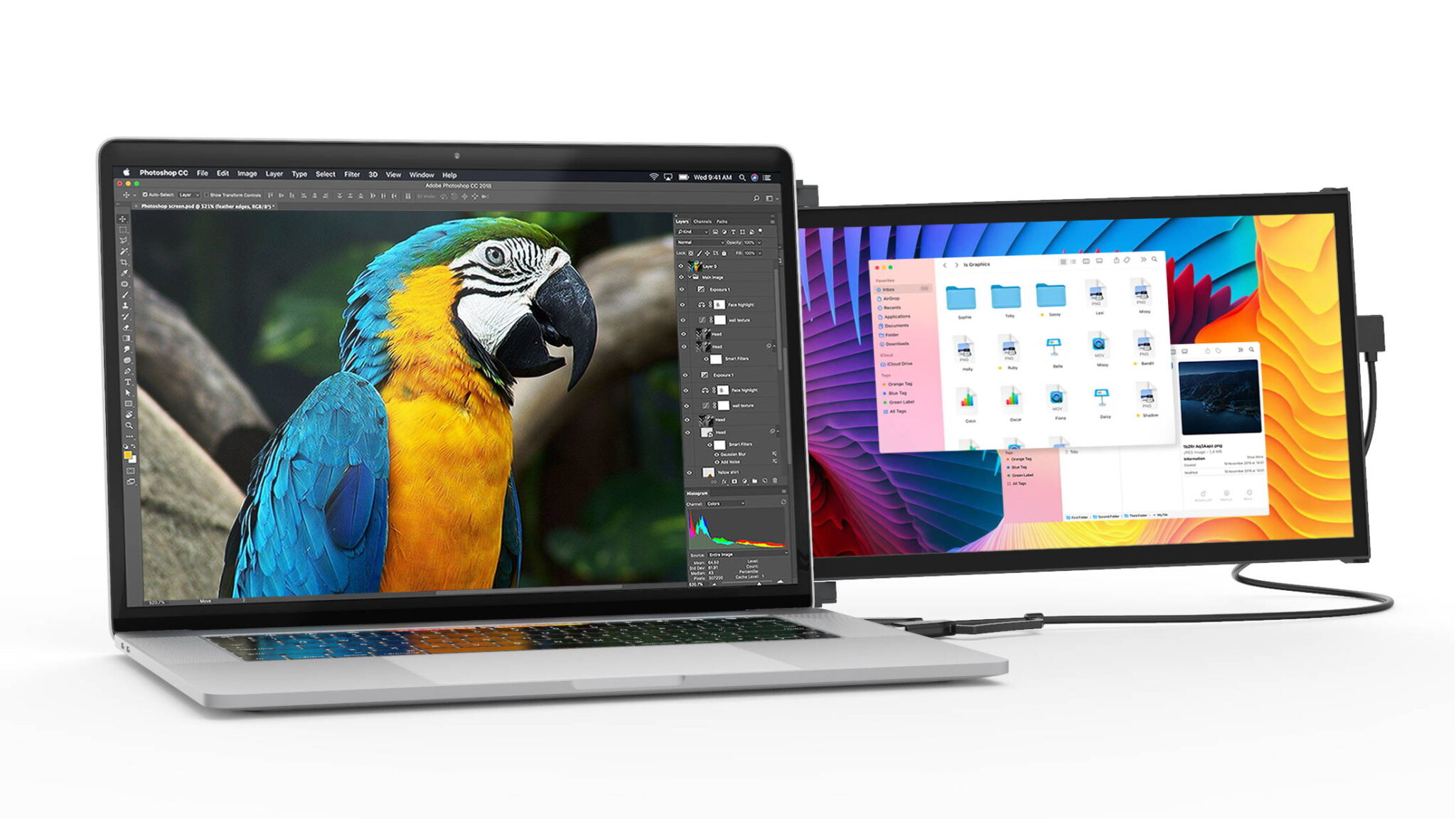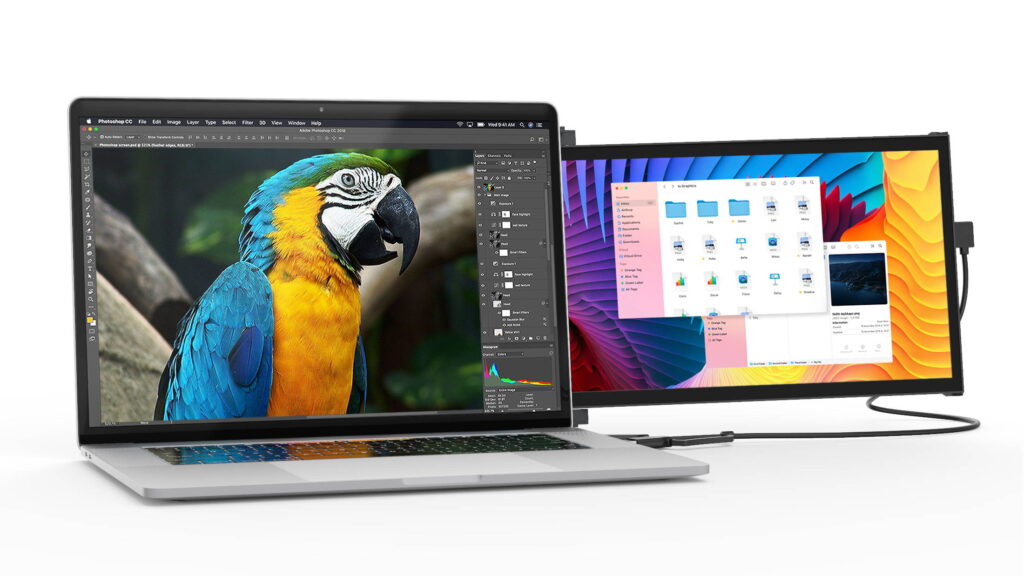 Asides from increasing productivity by 20-45 per cent, It provides you with extra efficiency when you are getting work done as you can. Carry out different tasks at the same time at a faster rate.
Its design is the best and very unique, you can simply attach it to the back of the laptop and slide it out when you are ready for use. You can use this in order not to waste any time whatsoever.
Also, this is quite useful to gamers as it provides you with one of the best gaming experiences, you get fantastic views on this monitor and there are so many gaming features available.
It is a very good choice for you if you want to get your work done more efficiently and you require another presence.
There is a cord and also an adapter which you can connect to the USB port on your laptop or a mobile phone.
This makes it comfortable and easy to use this monitor and optimize it to get the best results.
What Makes Mobile Pixels Monitors Different?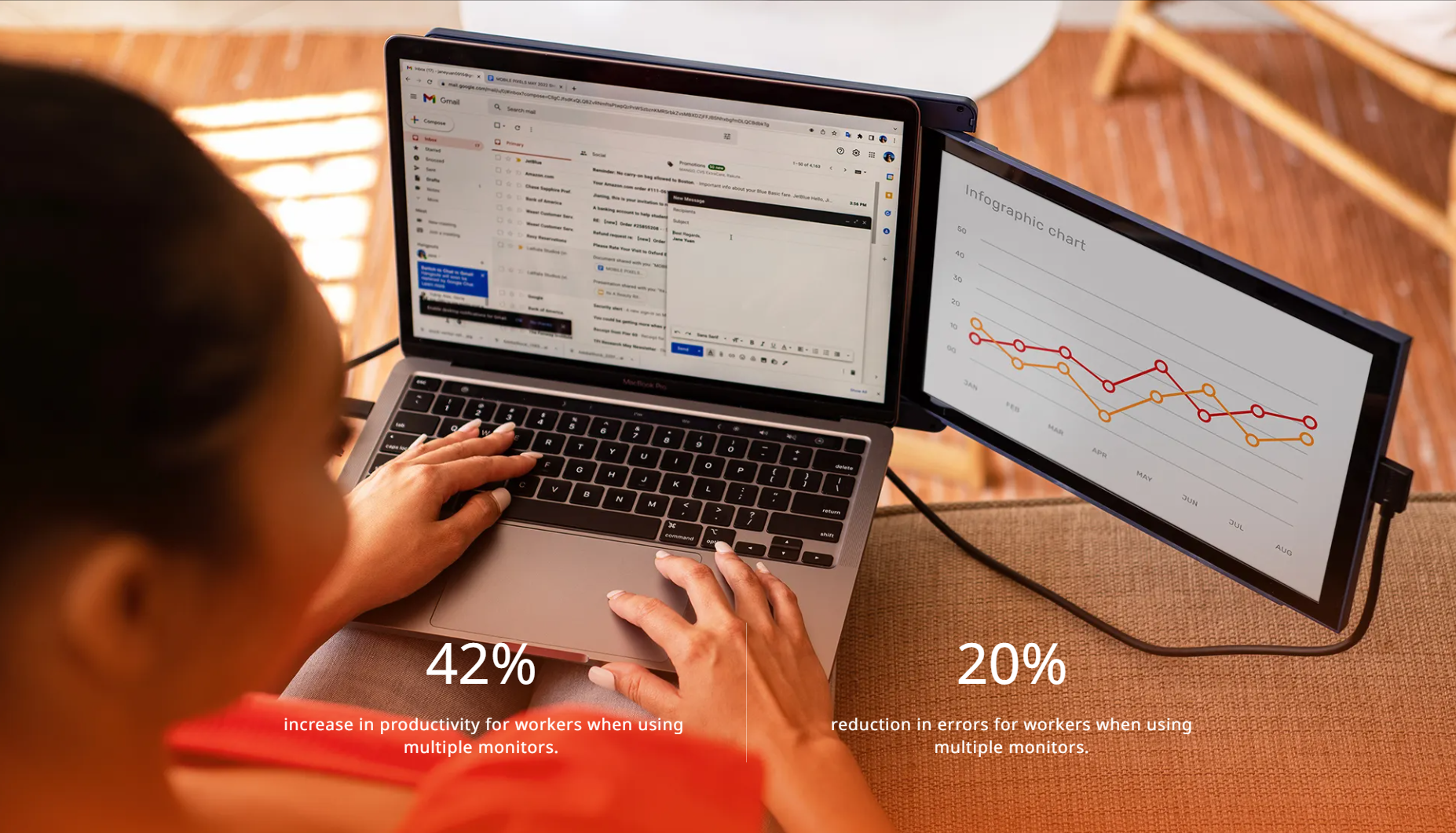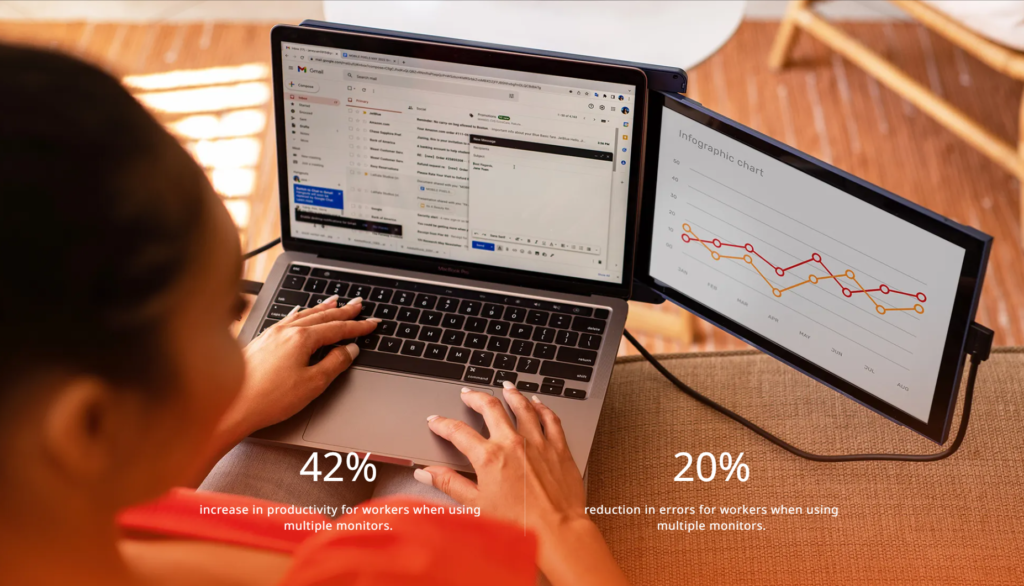 While other monitors may just give you an extra screen to make use of and also the ability to work with two screens and be able to carry out two activities at once.
They're not going to be as efficient as that mobile pixels dual-screen laptop monitors.
In terms of multitasking abilities, the Duex Plus monitors are still the best because they level up with laptops. Also in terms of productivity, they're the very best.
They make use of a totally safe hinged track slider and a set of magnets which helps the monitor slide out a couple of extra inches for you to be able to clearly see what you are doing.
The Duex Plus monitor allows you to rotate it in any direction you want.
You can even turn it to face backwards and someone on the other side can see what you are doing.
The Best Slimmest & Lightest Ultra Portable Monitor
Quite sleek, right? Mobile Pixels DUEX is such a success and if you have made use of this product you would clearly see why.
It doesn't weigh very much or add extra weight to your laptop and it is very mobile with 1.3lbs Lightweight and 0.25-inc Ultra-slim profile.


They also have magnets to keep in place at all times and you can add them to either side of your existing laptop.
It is widely compatible as it can be used for any portable laptop such as MacBook, Chrome, Android, or Linux device provided that you have a USB device and you have a functional computer. 
That's all you need to turn your singular computer into a two-screen ultra-productive machine.
What's In The Box – Duex Plus Unboxed
Best Duex Plus Features
Wide Compatibility:
The Mobile Pixels Portable Dual-Screen Laptop Monitor are not limited in any way.
It is highly compatible with different devices and this is a very good feature as anyone can use it.
If you are an extensive gamer you can also use it for your Nintendo games as a gaming monitor to watch your progress. There are so many ways in which this monitor can be used.
High Flexibility
This monitor is very flexible and possesses an automatic orientation sensor.
The monitor can effortlessly change the setup of your pages from left to right by automatically sensing which direction the monitor is angled in. Again, this feature is not possessed by most monitors out there.
2 Fully-Functional USB-C Ports:
The Duex Plus monitor makes use of two USB-C ports and this is used to provide quality video transmission. You can also use these ports to charge your device.
The Duex Plus is far better than the typical portable monitor you see around and this is very evident when you use it.
It can connect to different devices at the same time and give you a much bigger screen anytime and anywhere you want. You stand to gain a lot from making use of the Duex Plus monitor.
Presence of an Eye-Care Feature:
This is a feature present in the Duex Plus monitor that helps you set up the colour brightness and intensity to quickly reduce the amount of light that is transmitted by your monitor. 
This further protects your eyes from any harm and makes it quite easy for you to work on your monitor for a longer period. Many other monitors do not possess this feature.
Ergonomically Designed:
The Duex Plus monitor also lets you connect to various devices in four distinctive display modes.
So that you can comfortably work and check out everything you are doing on this multipurpose portable monitor.
Duex Lite vs. Duex Plus What is The Difference?
While they're very similar, DUEX lite encompasses every feature from the original Duex but it also comes with new features.
It is much faster, you are given much more colour options than the first, and also it has a brighter display.
Regardless of whether you want another screen just for your everyday personal use or you have special purposes like gaming or completing schoolwork,
You can make use of Duex lite as it is a much slimmer and portable solution.
Duex Plus on the other hand offers a larger display screen for those who are more interested in that.
This monitor is best fitted for experts and those who work in a professional field so they'll be able to multi-task without stress.
It doesn't matter if you're a teacher, a presenter, or just a professional who multitasks,
you should make use of Duex Plus as it is super easy to use and it does not take many technicalities to set up. All you have to do is a plugin and it works.
You can then slide it on either side of your laptop screen and it displays its 1080p resolution so that you can see everything very clearly, leaving no margin for error.
Who and Why You Should Get Duex Plus Monitor?
If you're always working and your job demands that you are focused on your computer screen all the time, the Duex Plus monitor can make your work a lot easier.
Much easier than you can imagine. Having two screens is definitely better than having one.
If you still don't know why you should definitely have the Duex Plus monitor in your workspace, it's important I chip in that having two monitors means more productivity.
It helps you simultaneously work on two different things at the same time without any interruption.
It also helps you in the area of focusing as you can proceed to carry out all the tasks you have at hand without having to stop because of any messages that pop up on your screen.
The Duex Plus monitor makes all that possible. Also, you can connect much better with your partners and colleagues at work as you can share ideas while working and you wouldn't have to lose focus.
Also, you can do a lot in a very small amount of time and this can make your work and life much better.
Duex Plus Monitor Display Specs
Duex Lite is 12.5″
Duex Plus is 13.3″
Resolution: 1080P
Colour Gamut: 45% NTSC 
Viewing Angle: +-80 degrees
Display Type: IPS 
Surface Coating: Anti-glare
Brightness: 300 Nits
Is Duex Plus Portable Monitor Cost Budget-Friendly?
The answer to this is yes. The Mobile pixels DUEX Plus is in line with the average market price for detachable laptop screens.
You are actually in for a good deal if you get the Duex Plus because it is much better than most other detachable laptop screens and it sells for almost the same price.
The screen costs $299 which is quite a good deal.
If you're after screens that sit independently of your laptop, those are quite cheaper and Duex Plus isn't for you then.
You can get one of those for $199 but reviews say that those types of screens hardly last long and do not provide the top-notch screen experience that Duex Plus provide. 
You can get the mobile pixels DUEX Plus in all major stores and it shouldn't be a problem for you to have it delivered to you anywhere you live.
LIMITED OFFER HERE? ENJOY 10% OFF Coupon Code for your first purchase
How To Fix Mobile Pixels Duex Not Working?
You have to download and install the Duex Plus drivers to your laptops and reboot or restart your laptop, hopefully, it will work perfectly.
Frequently asked questions about Duex Plus Portable Dual-Screen Laptop Monitors
What impact does the magnetic adhesive have on the case itself, is there a way to safely remove the magnets? 
Well, the new magnetic adhesives put in by the manufacturers are about 20mm in diameter. 
This does not affect the functionality of the laptop in any way and also the original display of the laptop is not affected.
 Also, the new adhesives are made up of something called the Nano Glue which leaves no residues and is easily removable by application of minimal force. 
Can this be attached to "laptops" with detachable flip keyboards such as Microsoft Surface Pro? 
No, this is not possible as you are going to make use of the kickstand if you're looking to connect it with a surface pro. 
Is this compatible with Chrome Book?
 It works with all laptops, but I don't know if Chrome books count: It is not naturally compatible with the Chrome operating system. 
However, a way to solve this problem was found. If your laptop has a USB C port with a DP signal, then you can plug it in and just decide to use it. 
Also, there is a driver that needs to be installed, I am hoping it is like your traditional screen, just plug it in. 
All your laptop needs is a USB C port and you can plug it in and it works like a normal monitor screen. 
Is Duex Plus compatible with all devices?
 It is widely compatible as it can be used for any MacBook, Chrome, Android, or Linux device provided that you have a USB device and you have a functional computer. 
Can you remove Mobile Pixels magnets?
 Removing the magnets from your Duex Plus monitor is quite easy as they are made from Nano Glue.
 You can attach and detach them very easily without any stress whatsoever. 
Is Duex Plus now available in the most popular store?
Yes, you can now get the mobile pixels DUEX Plus monitor on Amazon and it is available at a very friendly price. You should ensure you get one as soon as possible. 
Is Duex Plus Touch Screen Monitor? 
No, this monitor is not a touchscreen monitor as you make use of your keyboard. 
Duex Plus by Mobile Pixels Pros and Cons:
Let us take a quick look into the advantages and disadvantages of making use of this platform.
Duex Plus by Mobile Pixels Pros
Duex Plus helps Protects your eye
It is very lightweight and thin
It is very easy to use and mobile
Let's you work comfortably
It is very useful in increasing your work productivity.
Offers 1080 full high definition display
Can simultaneously charge and transmit videos
It is widely compatible with a lot of devices
and can be used on different occasions for different purposes.
Duex Plus by Mobile Pixels Cons
It is not a portable 4k monitor, but it offers lots of features to outshine this display
The portable monitor does not support HDMI, but two USB-C ports are everything you need and more
Final Verdict:
Finally, the portable monitor Duex Plus helps you increase your output, efficiency, and overall performance.
Due to its lightweight and easily detachable nature, it takes up very late space and you do not need a separate storage system anymore.
Also, you should note that this monitor has diverse functions as it isn't only used for laptops but for every other thing in the home that can use a secondary screen.
You can use it for either work or relaxation purposes.
It is also very durable and can last you for a long time. The portable Duex Plus monitor is very budget-friendly.
Ensure to get your mobile pixels DUEX Plus monitor now and enjoy a 10% discount which is given on every Duex product.