Last Updated on 3 years by On Trends Gear
No doubt, the world is rapidly turning into a global village. Jobs, and businesses,  now focus on getting their daily workload done through the Internet.
The current Corona Virus pandemic has allowed business owners and everyone around the globe to work remotely most especially game lovers.
The digital world is becoming more enticing and interesting to everyone around the globe. In recent times, there has been a myriad of innovations in the visual world ranging from gaming, and visual interactions, to visual meetings using Zoom, Slack, or Skype.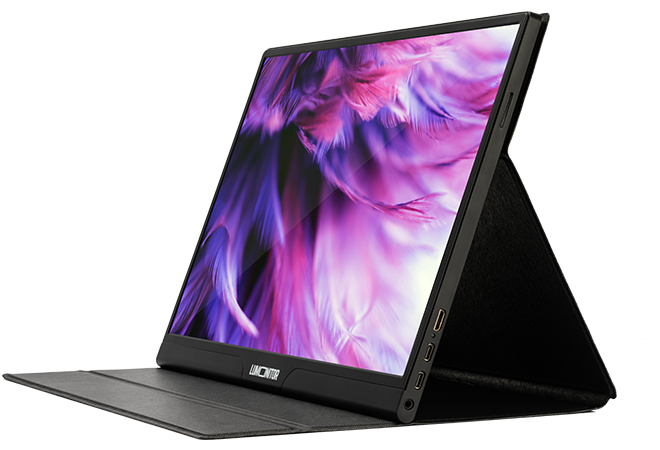 To stay in a continuous relationship with your team, office, and more, there is a need to embrace the latest and the most reliable visual portable monitor.
The Lumonitor 4K Touchscreen Portable Monitor is one of the best monitors. 
You agree with us that a secondary and versatile monitor with top-quality features can greatly increase productivity. With the help of a dual monitor setup, your daily tasks can be carried out without hassle.
In other words, you can be working with one monitor, why you use the other to attend the visual meeting.
In this Lumonitor review article, we shall be looking at Lumonitor 4K Touchscreen Portable Monitor, its features, customer reviews, and all that you need to know about the 4k portable monitor. 
What is Lumonitor 4K Touchscreen Portable Monitor About?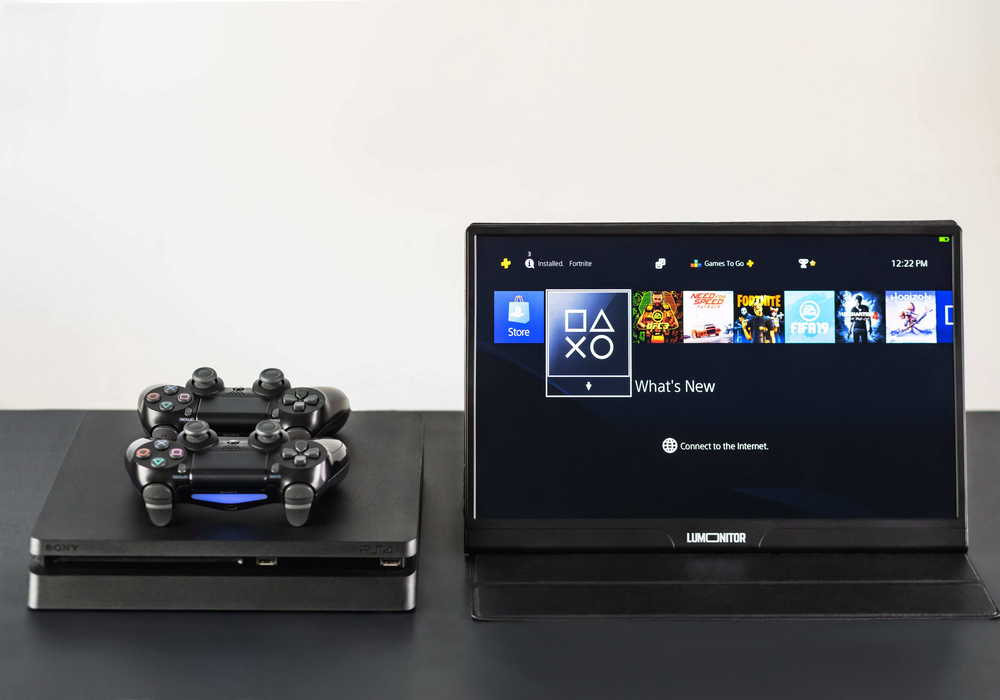 This monitor is the most portable gaming device. It has a portable touchscreen monitor with a 4k resolution. Lumonitor has hi-fi speakers, an in-built power source that enables users to operate the monitor like a stand-alone tablet. It has a long-lasting battery life.
You get to know more about the features of the 4k portable monitor as we progress in this Lumonitor review article.
Lumonitor Labs Description/ Founders – Lumonitor Review
This best portable gaming screen (Lumonitor) is an audio-visual innovator developed by world-class engineers and entrepreneurs in the audio-visual industry with a proficient background in monitor production.
One of their foremost projects was made known on a popular crowdfunding website called Kickstarter in July. They receive extra support and funding of over $500, 000 that extended their initial plan of $9,676. Indeed, the portable monitor is sleek and unique.
 If you are not utilizing the 4k monitor, one of the best portable monitors in 2020 for gaming, visuals, and more- we wonder what you are thinking.
The initiator of Luminator Labs believes in what it takes to offer outstanding innovations directly to the people rather than give their idea to giant tech companies. This triggers the launching of its products through crowdfunding.
"Lumonitor at pre-order pricing of up to 50% off the retail price, and limited early-bird perks are still available. Visit www.lumonitor.com to learn more."
What About Games? Best Gaming Monitor
Are you a game lover, who loves to play the game on one screen and interact simultaneously? The Lumonitor 4K Touchscreen Portable Monitor is for you. You can easily play games on a screen and communicate with viewers on the other monitor.
Though a normal monitor can get the job done, it will be most rewarding and better if you align with the latest portable monitor to increase performance and productivity.
Why should you Buy Lumonitor?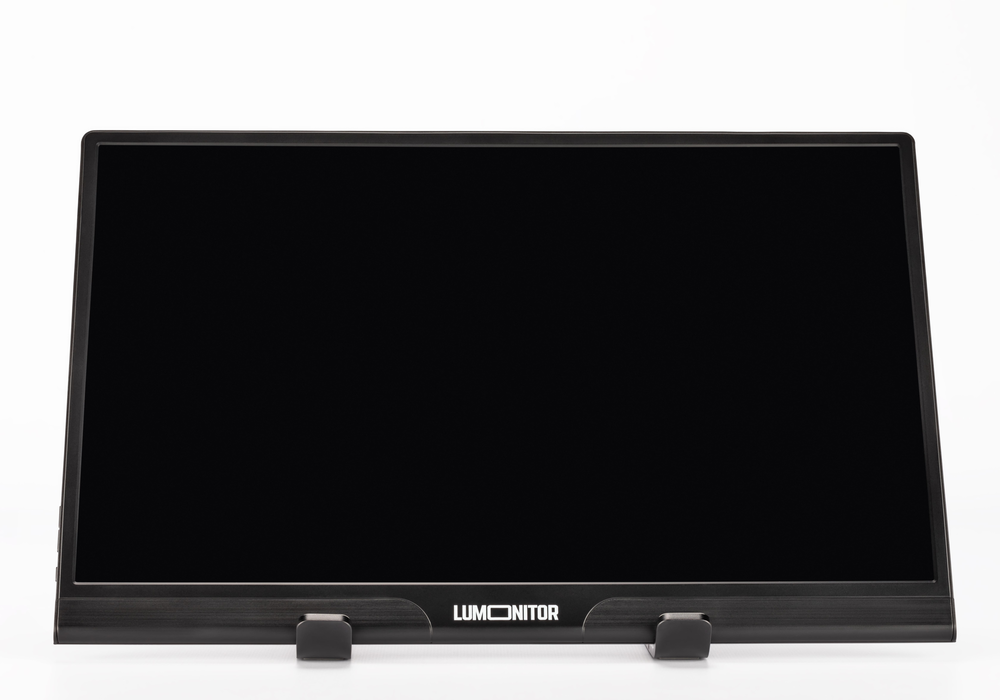 You may be wondering why you should opt-in to the portable 4k monitor when there are several options to choose from. Below are some of the benefits why you should buy Lumonitor;
Budget-Friendly 4k Monitor
Best Gaming Monitor
Universal Compatibility
Long-Lasting Battery Life
Comfort and Sleek
Budget-Friendly 4k Monitor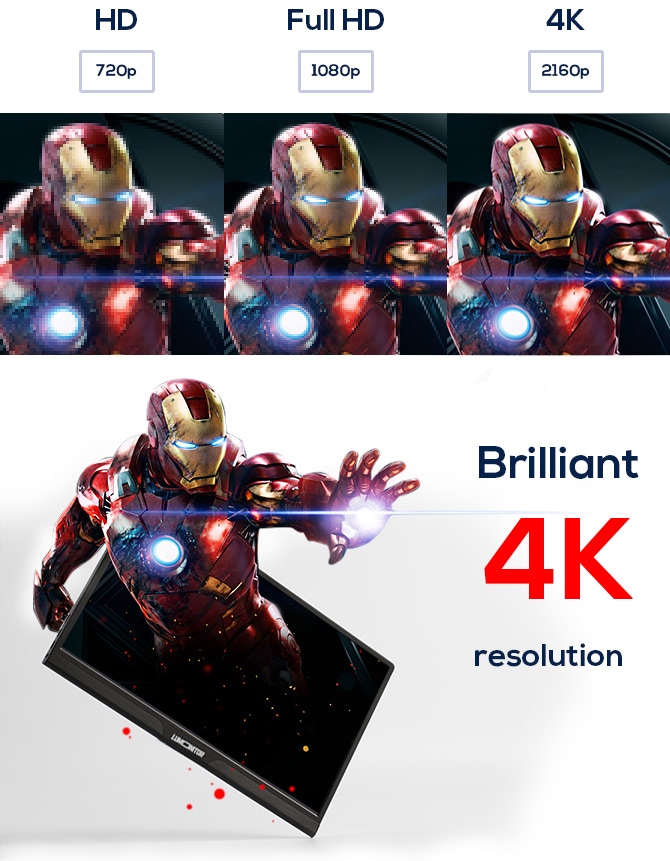 One of the major driving forces in buying any product is the price tag. The good news is- Lumonitor is one of the most budget-friendly monitors you can buy.
Remember, times are hard orchestrated by the COVID-19 global pandemic. With a less expensive portable monitor like Lumonitor, you can still enjoy quality gaming and work experience.
Best Gaming Monitor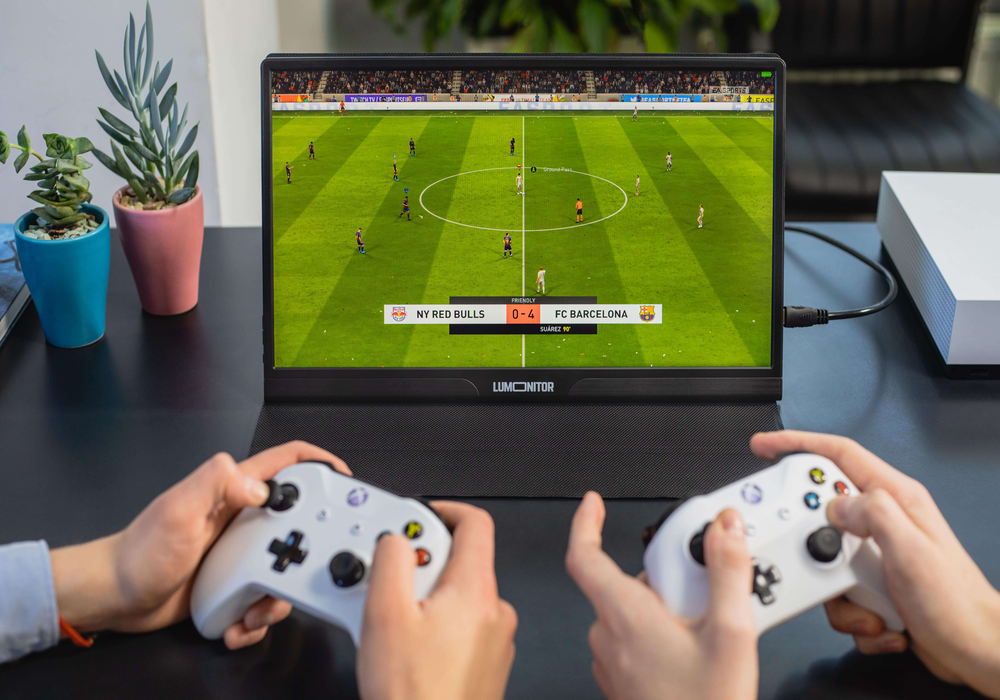 With the various features that come with Lumonitor, you agree with users that have tagged this portable monitor as one of the best gaming monitors.
It allows users to enjoy gaming streaming while doing some other tasks. Also, allow users to interact with their viewers.
Isn't this reason awesome? Every game lover would want to interact with their viewers. Lumonitor is gaming ready at all times.
Universal Compatibility
Lumonitor is not selective, unlike other traditional monitors. It is compatible with any devices like gaming consoles, smartphones, computers, and more.
Long-Lasting Battery Life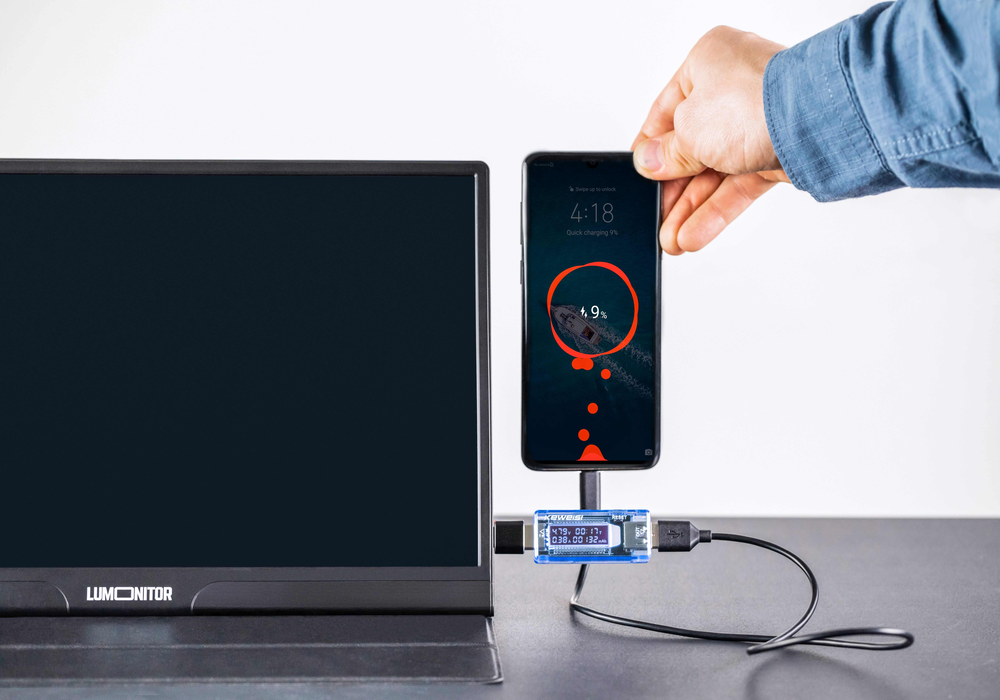 Unlike other portable monitors that barely last for two to three hours. Lumonitor is the opposite. It has a 2X 4000mAh inbuilt battery that can last up to 4 hours.
The long-lasting battery life should be one of the reasons why you should buy Lumonitor.
Comfort and Sleek
Lumonitor offers users a long-lasting experience. It guarantees top-quality visual display and audio for all your movies, TV series, and games.
The touchscreen feature is something you barely see in any portable monitor.
"At the time of writing, you can still get Lumonitor for up to 50% off by visiting www.lumonitor.com today"
Top Lumonitor Features
Here we shall be looking at the salient features that make Lumonitor portable monitor stand out among others;
Universal Compatibility Feature
Full Touchscreen Display Feature
Strong In-built Battery
4K Display Feature
Gaming Enhancement Feature
Slim and Light Feature
Plug and play Feature
Outstanding inbuilt Stereo Speakers
Universal Compatibility Feature
Here is the number one feature of this portable monitor. It is compatible with any device. Be it Xbox, PlayStation, gaming console, smartphones, iPhone, desktop, or laptop devices.
It also offers different port options like Micro USB port, 3.5 mm AUX, 2X USB-C, and HDMI.
The compatibility of Lumonitor is awesome and mouth-watering. The universal compatibility allows you to connect the monitor to any device.
Full Touchscreen Display Feature- Lumonitor Review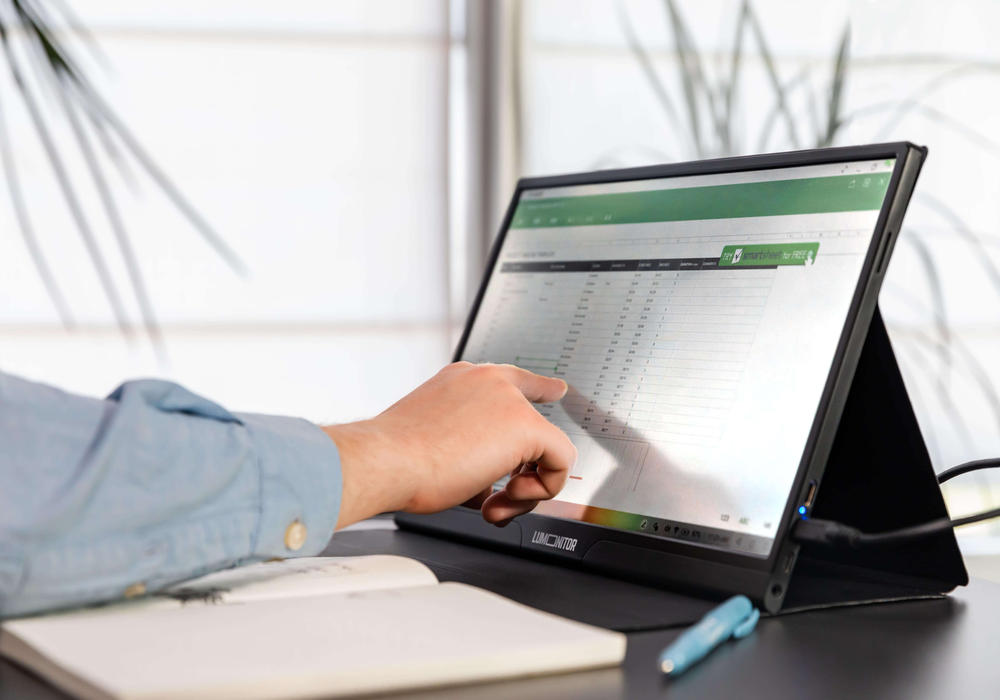 Here is another versatile feature of the Lumonitor portable device. It comes with a touchscreen display for seamless use. You agree with us that this feature is a huge plus compared to traditional monitors.
The Lumonitor is empowered with the latest Pinpoint touch technology that enhances quick and accurate touch sensitivity.
You gain more control and increased performance in your daily tasks by having a touchscreen portable monitor like Lumonitor.
Strong In-built Battery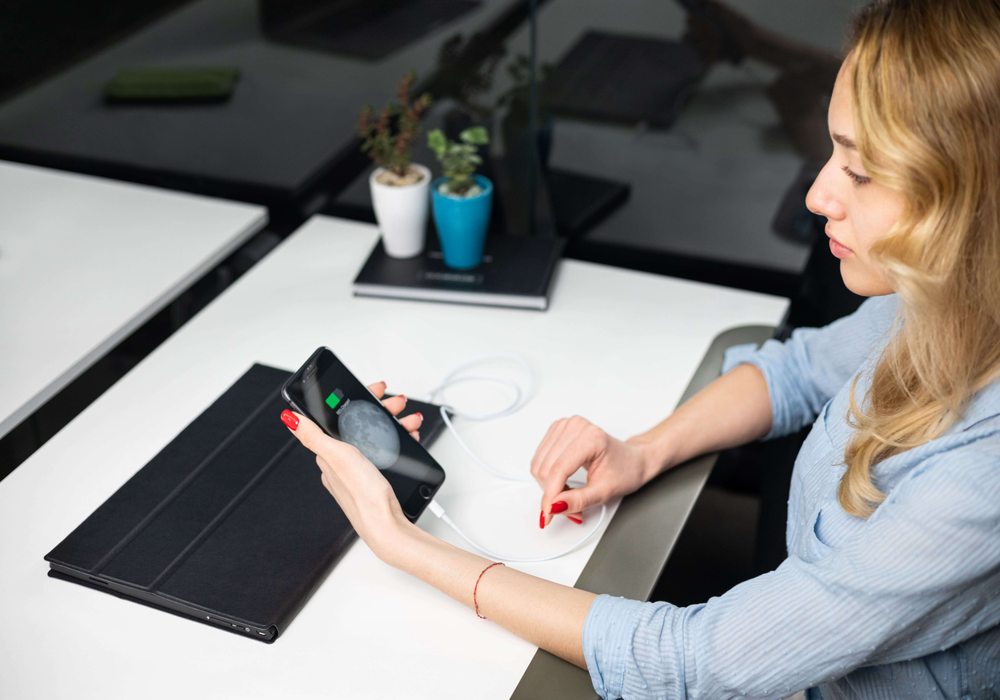 Undoubtedly, most portable monitors tend to drain the battery life of other devices connected. However, Lumonitor is the opposite. It features 2x 4000mAh batteries that offer users 4 hours of continuous screen time.
You agree with us, a device with this kind of long-lasting battery life will give you the required time to accomplish the daily task without the battery running down.
It also serves as an alternative means to charge your other devices like iPhones or smartphones
4K Display Feature- Lumonitor Review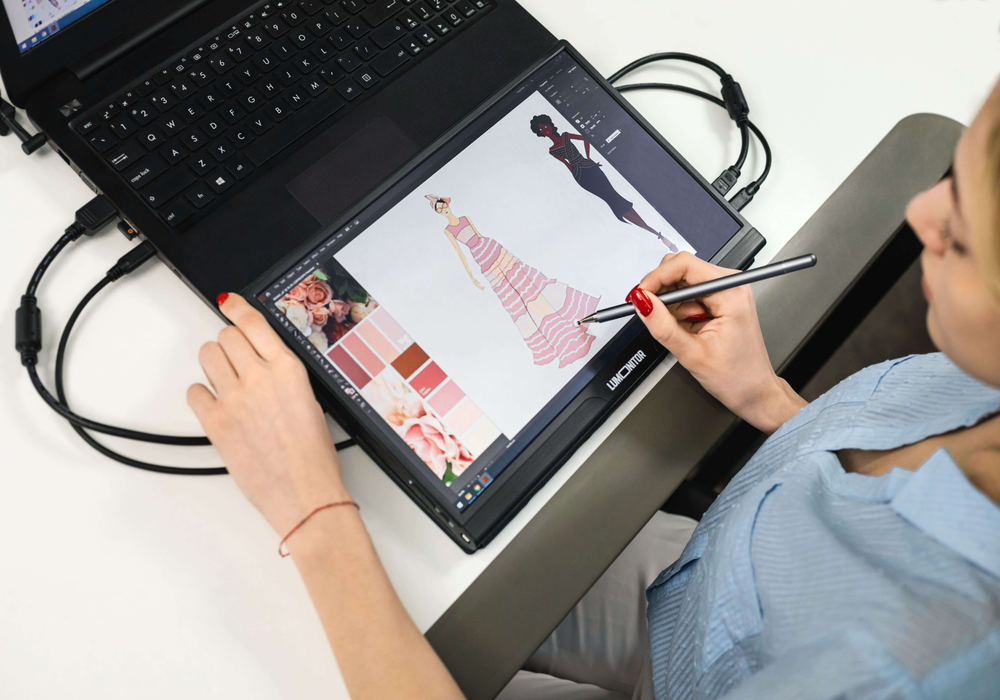 This portable gaming monitor comes with a 15.6 4K ultra IPS display. This feature has better depth and high-rated quality compared to other traditional full HD display monitors.
It comes with a true LED backlight that offers users clear colours and deep blacks with 100 per cent sRGB.
You are sure to enjoy a long-lasting experience with Lumonitor portable monitor while working or streaming your favourite game.
It also features a 1080p full HD variant that allows users to make their choice. The 4K display features are a must-have in the 21st-century monitor.
Gaming Enhancement Feature
Lumonitor is gaming ready. All you need to do is to plug in your PC/console, hook your controller, and enjoy a 4k gaming experience.
It provides zero tolerance for lagging. It features a fast 10ms response rate. With Pinpoint touch technology, you enjoy a super touch screen display that guarantees an outstanding experience.
Slim and Light Feature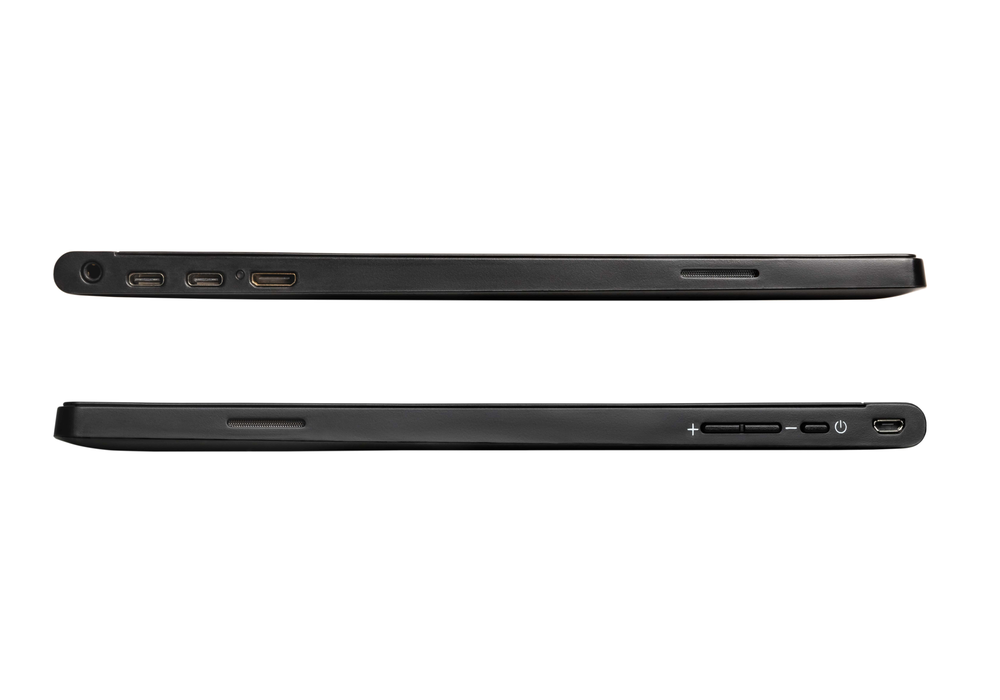 Nobody wants to carry a heavy monitor around in this 21st century. This is why the Lumonitor is designed to be slimmer and lightweight for anyone to carry around.
It features 6mm wide and 1.3 Lbs. This makes it more portable and enhances easy mobility.
It is lighter and more outstanding than other portable monitors that you may come across. Lumonitor is suitable for entertainment or workspace presentation.
Lumonitor Review- Plug and Play Feature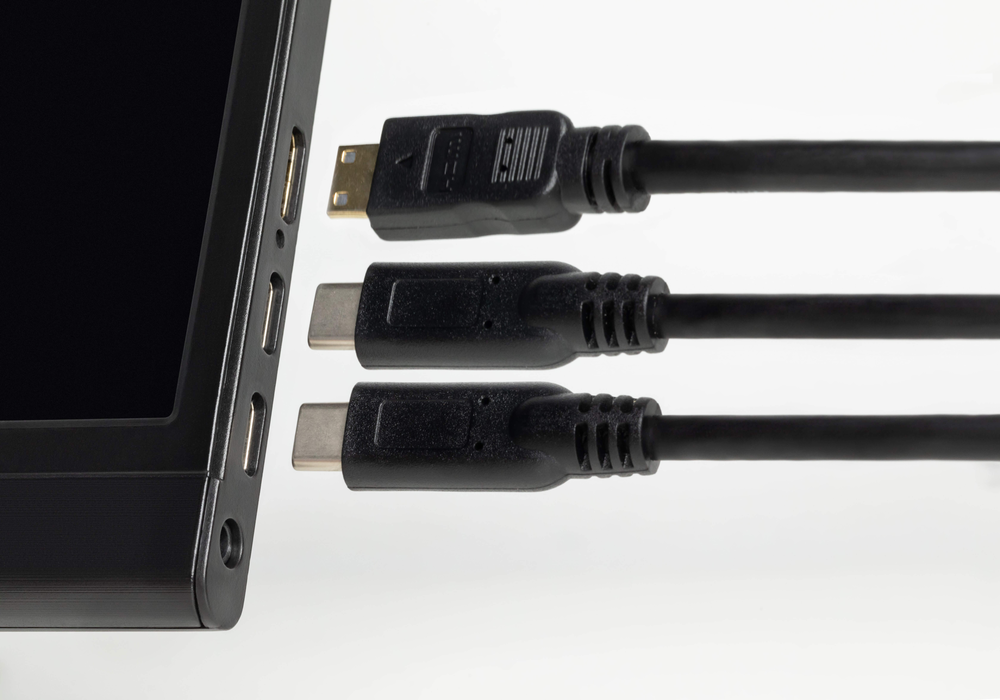 The plug-and-play feature offers users the Apple opportunity to work with their monitor while charging.
Meaning you don't need to wait for your monitor to be fully charged before you can install updates or new software. It does not require a rigorous process in doing any setup.
All you need to do- is to connect your device. The in-built battery makes the feature possible.
Outstanding inbuilt Stereo Speakers- Lumonitor Review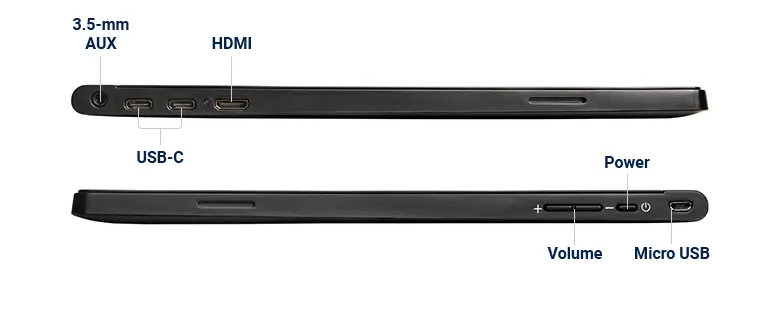 Unlike other monitors that rely on external stereo speakers. Lumonitor comes with outstanding inbuilt HiFi stereo speakers that eliminate the option of an external speaker.
It offers a unique audio sound and versatile bass. You have the privilege to watch movies, play games, and TV series with quality audio.
Popularly Frequently Asked Questions
Below are some frequently asked questions;
When is the Lumonitor Portable Monitor Release date?
Lumonitor is available for pre-order price. Get your now, before the campaign ends.
Is Lumonitor: 4K Touchscreen Portable Monitor Cost Budget-Friendly?
Yes, it is very affordable. You get the 4K variant at a discounted price of $325 (35% off retail price).
Whereas, the 1080p option cost $225 (44% off retail price). The pricing is temporary, meaning it will change once the Kickstarter ends. Now is the best time to grab yours.
Will Lumonitor: 4K Touchscreen Portable Monitor Works With Everything?
It has universal compatibility that allows it to work with any device like smartphones, computers, laptops, iPhones, game consoles, PlayStation, and more.
Is Lumonitor: 4K Touchscreen Portable Monitor Available in the most popular store?
You can get it on Kickstarter
Customer Lumonitor Review
Here we shall be looking at some customer reviews regarding this portable monitor.  If the benefits and features listed above do not motivate you, we believe these customer reviews should give you an insight into the pros or cons of the Lumonitor 4K Touchscreen Monitor.
Below are some customers review;
First Customer Lumonitor Review
Second Customer Lumonitor Review
Third Customer Lumonitor Review
Fourth Customer Lumonitor Review
First Customer Lumonitor Review
This is awesome, I am enjoying every bit of this portable monitor. The visual display is awesome. TG I got this monitor. Zero worries. I don't have to worry about my daily tasks, with the Lumonitor portable device, I have no cause to worry. Seth Peters
Second Customer Lumonitor Review
Lumonitor is the best for my business. The compatibility feature is incredible. It supports multiple- touch with my win10 and iPhone device. It is a must-use portable monitor for anyone who desires multiple features for several devices. Craig T.
Third Customer Lumonitor Review
Wow……wow……wow. This is great. I don't have to worry about battery life ever since I got this portable monitor. I can conclude all my daily to-do lists without interruption. This portable 4k monitor is the best. I love the quality this product offers. Cynthia.
Fourth Customer Lumonitor Review
This is amazing- the portability is wow. I love this monitor, and the mobility is unique. I use this monitor for my personal and office use. My staff love using the Lumonitor portable 4k monitor for our business seminars and other training. The makers of this monitor deserve accolades. Bestie Brat.
Final Verdict
On a final note, the Lumonitor 4k portable monitor is the best monitor you should try. It is seen- as the best gaming portable monitor for every game lover.
This monitor not offer to give several advantages to game lovers but for everyone. It is the ideal gadget for multiple uses.
To learn more about the most trending technology in the gaming niche or other tech world, please subscribe to our newsletter or leave a comment below.
Top Rated Portable Monitors
Last update on 2023-10-09 / Affiliate links / Images from Amazon Product Advertising API