Last Updated on 11 months by On Trends Gear
It's possible that you're sick of your family disturbing you when you're trying to play a video game from PS5 to Laptop, or that the volume of the living room TV is too high for a peaceful evening of unwinding. 
Perhaps your TV got damaged and you were left with just the PlayStation 5 and no TV.
There may come a time, for whatever reason, when you wish to utilize your laptop as a display for your PS5, provided you also have a laptop.
Before delving into the specifics of using your laptop's display as a monitor for your PlayStation 5, let's find out if that's even possible.
Can a Laptop Be Used as a PS5 Monitor? PS5 to Laptop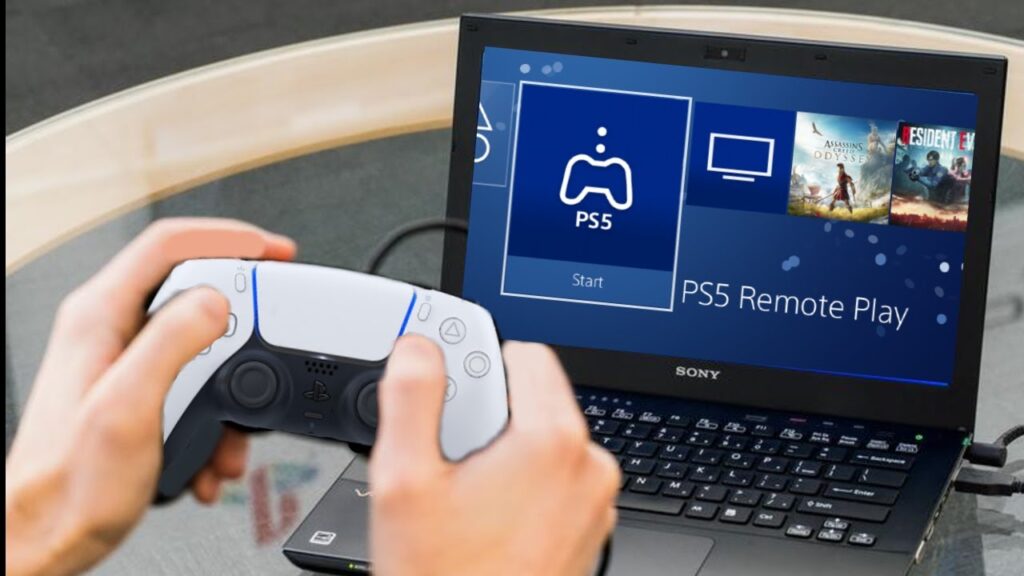 Yes. Sony's Remote Play program, available for free on computers running macOS and Windows, allows you to use an external monitor for the PS5's display.
In addition to the Remote Play software, you may connect your PS5 directly to your laptop through a video capture card.
How to Connect Your Laptop Monitor to PS5
PS Remote Play App
The PS Remote Play software allows you to stream your PlayStation 5 games to your computer, making it possible to play them there.
Both PCs and Macs may download the program. After installation, log in to your PlayStation Network account, and the software will begin searching for PS5 consoles.
You must activate remote play on your PlayStation 5 before the app can access your console.
The option to "Enable Remote Play" may be found in the System section of your console's settings menu.
Finally, here we are! Simply following these steps will allow you to play your PS5 games on any computer, whether it be a laptop or desktop.
Streaming requires a stable internet connection, and we discovered that there is still some delay at present.
There's no need to panic, although it may grow annoying in first-person shooters when every millisecond matters.
Connecting your PS5 directly to your router, and ideally also your computer, through an Ethernet connection will help eliminate latency and other connectivity issues.
While the quickest speeds may be attained in this manner, portability is sacrificed, and you may need to buy Ethernet connections if you don't already have any.
However, the aforementioned approach using the PS Remote Play program is the simplest way to transform your laptop's or desktop's display into a PS5 display.
However, there is another option if you don't have access to a reliable internet connection or if you simply choose to try something else.
 To do this, you'll need a capture card to connect your PS5 to Laptop.
Capture Card
Sale
A capture card is a worthwhile purchase to make if you are concerned about delays and buffering when utilizing the software for the PlayStation Remote Play.
These kinds of capture cards are commonly used by gamemasters who stream their gaming on platforms such as Twitch and YouTube.
Their principal purpose is to ensure that the visual signal from the console is seamlessly transferred to the screen of a laptop or other type of computer without any lag time or interruptions.
These aren't exactly inexpensive, but if you invest in a good one, you won't have to stress about it being unreliable or moving too slowly.
A good capture card that can consistently transport the video signal from your PS5 to your laptop is the Elgato HD60 S. It is not an inexpensive solution, but it does what it is intended to do, and it is preferable to the alternative, which is to go out and get a whole new television set.
You also have the choice of making use of one of the most affordable capture cards now on the market; however, doing so may result in extra concerns such as sluggishness and overheating.
The outcomes will be determined by the amount of time you spend gaming as well as the games you play. On the other hand, based on my observations, you shouldn't run into any problems while using the Elgato.
How to Connect Your PS5 and Laptop to the Capture Card
The capture card's instructions will walk you through the simple steps, but here they are:
First, plug the capture card's USB-C end into your computer, then plug the other end into a USB 3.0 port on your laptop or desktop. To get the most out of it, you should only plug it into a USB 3.0 port on your computer.
Secondly, Connect the PS5 to the HDMI cable, and then connect the other end to the capture card's HDMI IN input.
Thirdly, connect your laptop or desktop computer's display to the card through the HDMI OUT connector and an additional HDMI wire.
And you are done. There is no longer any latency while playing PlayStation 5 games on a computer. It's more complicated and expensive than utilizing the remote play option, but it's more trustworthy.
Can You Connect PS5 to Your Laptop Monitor Using HDMI Cable
Doing so would be the quickest and easiest way to solve the problem; but, with very few exceptions, this method is not feasible.
Because both the PS5 and the laptop have HDMI out ports, it is not feasible to connect them using an HDMI cable via an HDMI connection.
Only a select few PCs are equipped with an HDMI in connection, which is essential for grabbing the visual information coming from the PlayStation system.
To Wrap Up
Try to keep in mind that there is no such thing as an impossible task. With the right gear, you may indulge your inner adventurous gamer.
Bringing your PS5 anywhere is possible, even if you only have a laptop as a secondary screen. Thanks to progress in technology, all of a gamer's dreams may now be realized.
Sony is known for effectively realizing seemingly unachievable goals. These creators made it possible for people to see in 4K and hear in 3D.
We hope this post has helped to explain that the aforementioned industry titan is not planning to forbid you from using its premium console with your laptop.
Continue reading; 15 Most Reliable and Trusted Best Budget Laptops Under $500 – Best Deal
Last update on 2021-09-30 / Affiliate links / Images from Amazon Product Advertising API