Last Updated on 2 years by On Trends Gear
Smart homes and smart doorbells go hand-in-hand but when you have a market full of options, making a pick would be rather difficult.
Ring is one of the leading manufacturers of smart video doorbells for smart homes and we are going to take a look at two of their top models.

The Ring 2 vs Ring Pro are two of the most successful models from Ring. They both come with many impressive features and bear many differences.

If you're having a problem with choosing between the two, then this Ring 2 vs Ring Pro comparison guide should help you make the right decision.

[wpsm_toggle title="Table Of Contents "]
[wpsm_titlebox title="Ring 2 Vs Ring Pro Doorbell Comparison" style="4″][wpsm_toplist][/wpsm_titlebox]
[/wpsm_toggle]
Ring 2 vs Ring Pro Comparison Guide
In this comparison guide, we are going to pit both models against each other and compare their features using several categories.
The following categories will be used to determine the leading product among both models.

Installation

Design

Features

Performance & Camera Capabilities

Mobile App

Price Comparison
1. Ring 2 vs Ring Pro Installation Comparison
Ease of installation is very important for smart doorbells. The best doorbell should come with a simple setup process that won't require you to call a professional to set it up or having to spend hours going through the manual just to ensure you get things right.

Ring 2 Doorbell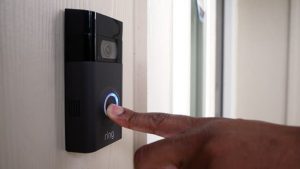 The Ring 2 Doorbell offers double functionality – this means it can function as a wired and a wireless doorbell. The wireless setup is very fast and would only take about a few minutes.
The doorbell comes with all the necessary equipment for the installation process. To activate the doorbell after installation, you would have to download the "Ring" mobile app on your smartphone.

Before installing the device, you should read the manual. It is very easy to install, but if you run into problems, you can contact the support team and request assistance.

Ring Pro Doorbell
[content-egg-block template=offers_list_groups next=1]
The Ring Pro doorbell doesn't come with wireless connectivity so setting it up would take a bit more time.
You will still get all the necessary tools to install it properly and a manual that helps with the wired installation.

In this category, we have to hand it to Ring 2 due to its wireless connectivity option. This makes installation easier and less time-consuming.

2. Ring 2 Vs Ring Pro Design Comparison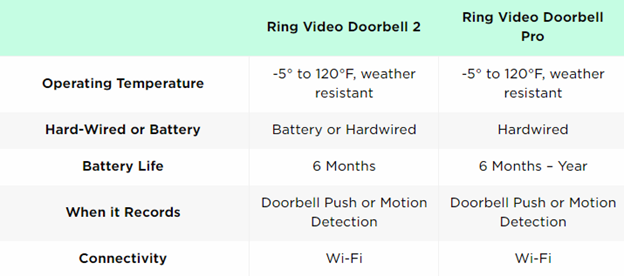 While the overall aesthetics is never a deal-breaker when it comes to doorbells, one with an attractive design would definitely interest more shoppers.
It also makes sense to go for attractive doorbells since you will be mounting them next to your door for the public to see.

Ring 2 Doorbell

[content-egg-block template=offers_list_groups next=1]
The Ring 2 is bulkier in size than the previous options. This could be due to the added features.
It features two interchangeable faceplates and with dimensions of 5.05 inches tall x 2.50 inches wide x 1.08 inches thick. While this doorbell is bulky, it does come with an attractive design that would boost the aesthetics of the doorway.

Ring Pro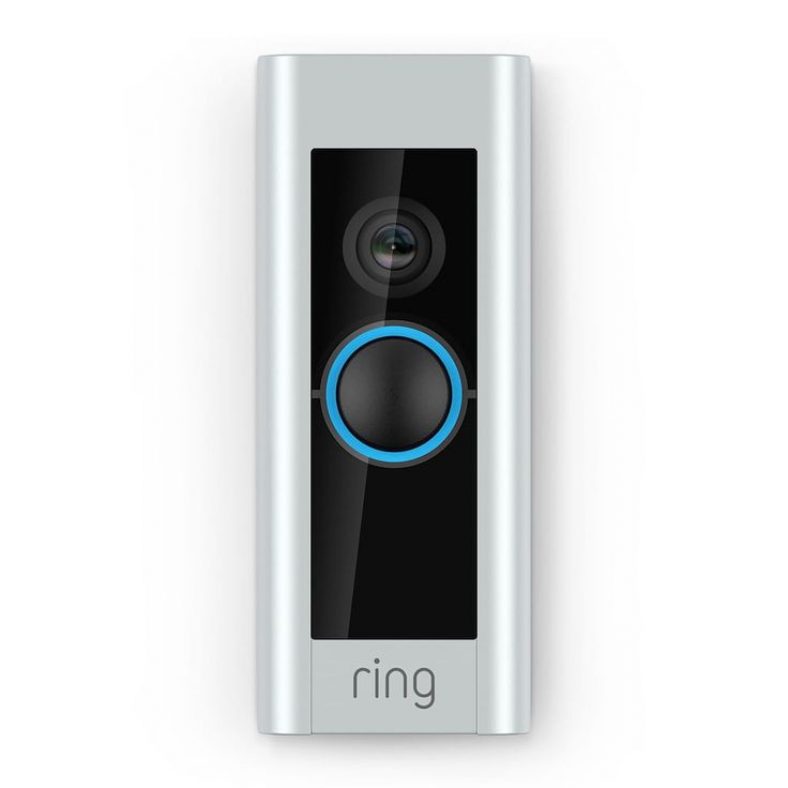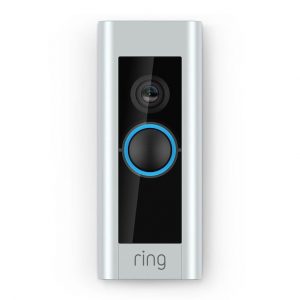 The Ring Pro looks more appealing than the Ring 2. This could be due to its smaller size. It has more interchangeable plates – up to four and measures 4.5 inches x 1.8 inches X 0.8 inches.
The Ring Pro comes with more customization options that allow you to change the look of the doorbell as you see fit.
You can use any of the interchangeable faceplates to determine how you want the doorbell to look.

Considering the extra interchangeable plates and the slimmer and smaller build, the Ring Pro makes for the better option in this category.

3.Ring 2 and Ring Pro Features Comparison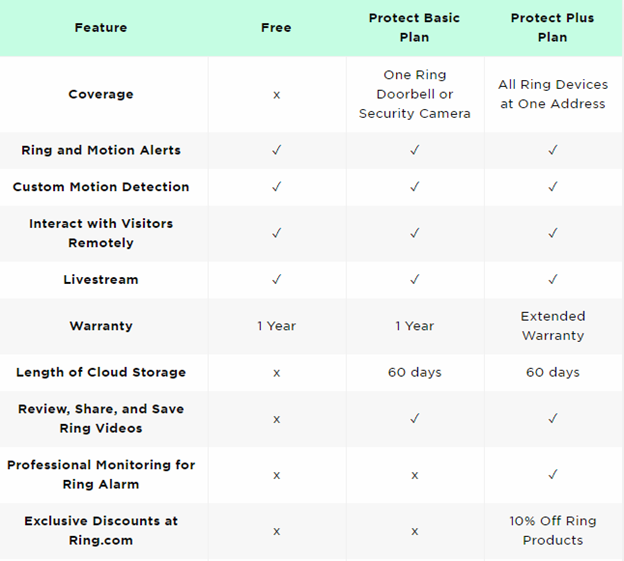 Ring 2 Doorbell

1080p HD Video

160-degree Field of View

Motion Alert

Amazon Alexa Support

Motion Zones

Cloud Recording

Ring Pro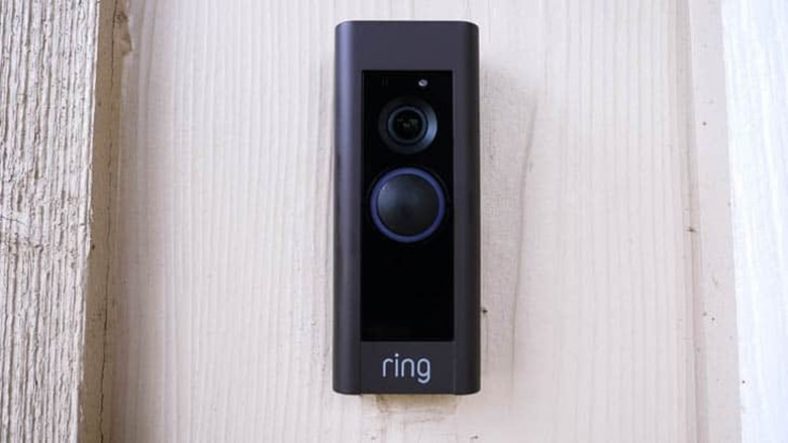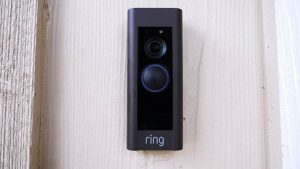 1080p HD Video

Motion Alerts

Motion Alert Customization

Amazon Alexa Support

Cloud Recording

On-demand Streaming

5-second Pre-Roll

Both models Ring 2 vs Ring Pro offers similar features. You'd still get the same 1080p HD video quality regardless of the option, you go for.
You will also find Amazon Alexa support in both models which makes the devices easier to control. One major feature that stands out among both models is wireless support.

The Ring 2 is a dual-powered which means will function as a wired and wireless doorbell. The Ring Pro, on the other hand, is a wired doorbell.
Another difference between both doorbells is that the Ring Pro comes with a 5-second pre-roll. This feature allows the user to rollback the footage 5 seconds before the motion alert was triggered.

4. Performance & Camera Capabilities
While aesthetics and size are important features to note, the most important thing to consider when picking a doorbell is its performance and camera capabilities.

Ring 2 Performance

The Ring 2 doesn't come with the glitches and bugs that plagued the first generation
Ring doorbells. This doorbell will send a notification to your smartphone whenever someone gets close to your door or presses the button. You can then start a live feed.

This doorbell comes with a perk that you rarely find in most doorbells. Rather than walking to the door to know why the visitor is at your house, you can just talk to them using the two-way talk option of the doorbell.

Battery – The Ring 2 is battery powered which means you would have to change the battery every now and then. The best doorbells come with durable, long-lasting batteries and Ring 2 is one of them.                                               This battery in this doorbell would last anywhere from 6 to 12 months.

Motion tracking – Motion sensors detect movement and alert you ahead of time. This feature is important and it must be accurate so you won't have to deal with false alerts.                                                  The Ring 2 comes with an enhanced and improved motion alert feature that will send a notification to your smartphone so you can start recording.


The Ring 2 comes with sensitivity settings that allow you to set just how sensitive you want to the motion sensor to be using the mobile app. This feature helps to prevent false alerts


Subscription – The Ring 2 offers a subscription plan for users to record clips. There is no free cloud storage plan which is common with other doorbell brands.        Fortunately, the subscription plans aren't expensive. You can pay a little as $3/monthly or $30/yearly.


Video & Audio Quality – Video quality is very good in the Ring 2. This is due to the upgrade from 720p to 1080p. You will still get impressive image quality even when zooming in.                        There is also a night-vision recording that will provide detailed videos. The video should run smoothly but if you start to notice blurs, it might be due to the quality of your Wi-Fi strength.


A stronger Wi-Fi signal will deliver better videos. The Ring 2 offers a 160-degree field of view which allows you to see pretty much all there is to see if someone is at your door.                                                 The audio quality is also great which is quite important if you're going to use the two-way talk feature.                                            You will want the person on the other end to hear you clearly as you would them.

Ring Pro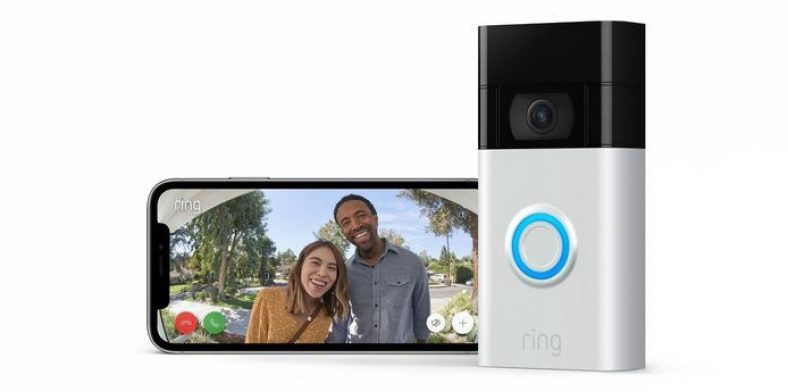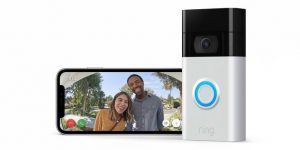 Video Quality – The Ring Pro also records in 1080p HD so the video quality is pretty much the same as that of the Ring 2. It also has a 160-degree field of video and insane recording capabilities that beat that of the Ring 2.                                         You should expect clear images in daytime and at night. You will get black-and-white footage at night but you should still be able to make out details.

Motion Sensors – The motion sensors on the Ring Pro doorbell will pick up movement and send alerts to your smartphone just fine. You can easily stop false motion alerts using customizable motion zones.                                       Normally, you can reduce the sensitivity levels but if this doesn't stop the false alerts, you can set a motion zone. All you need to do is tag the zone you want the doorbell to be active in.                               With these settings, you will only receive alerts if it detects activity in the set area.


Storage – Just like Ring 2, the Ring Pro charges you a monthly subscription fee to store your footage, however, it does offer an incentive.                                             You will get a month of free cloud storage to try out the feature. This gives the Ring Pro an upper hand over the Ring 2 which doesn't come with a free trial.


Pre-roll Feature – If you wish to check out just a few seconds before your doorbell was pressed, the Ring Pro offers a pre-roll feature for that.                                           This means you can take the footage back by 5 seconds before the doorbell was pressed.

5. Ring 2 vs Ring Pro Mobile Application Comparison
A smart doorbell with a mobile application makes for a more complete package. With the mobile app, you can control, monitor, and navigate the functions of the doorbell.
The Ring mobile app is well-built and intuitive. This app is not dedicated to the doorbells alone rather it works for all Ring devices including its doorbells and security cameras.

The app allows you to check a lot of alerts like triggered events, your device status, battery life, and watch recorded clips.

You can also customize the motion zones of your doorbell straight from the app. You should also set when you will receive notifications by creating an app. This will help so you don't receive notifications at inappropriate times.

Ring doorbells are built for families and individuals so the mobile app allows you to grant access to other people like the members of your family to review the recorded footage and answer doorbells.

If you like, you can disable the ring and motion alerts. If your house is close to the street, you might have to deal with a lot of false alerts. This is due to the movement of people and vehicles that may be nowhere close to your door.

To deal with this, you can set the sensitivity of the motion sensors from high to low. This way, the doorbells will only detect movement closer to your door and give you the right notifications.
You can also configure the motion zones. All these can be done from the mobile app with the click of a button.

There is also a Live View option to the mobile app. This allows you to view live footage straight from the app without receiving a notification.

The mobile app works pretty great. The extra features that allow you to check your battery status would help remind you ahead of time when your battery starts to lose its efficiency.
You can also check your device status to know if there is a glitch or if it is operating just fine.

While watching live footage from the mobile app, you may experience lags and interruptions. In most cases, this is not due to a flaw in your doorbell bur rather due to the failing signal strength of your Wi-Fi connection. If you experience this, check your Wi-Fi connection first before trying other options.

You can always consult the manual for other solutions or speak with the Ring customer service

Ring 2 vs Ring Pro Price Comparison
[content-egg module=Amazon template=compare]
Bottom Line
Both the Ring 2 vs Ring Pro doorbells are impressive security devices to have next to your door.
They both come with an impressive design and offer an outstanding spec sheet full of high-end features. Both doorbells are designed to last and they would easily withstand the harsh elements of the weather.

The Ring 2 stands out due to its wireless functionality. With this option, you wouldn't have to drill holes to pass the wires and you can set it up in a few minutes. It would also cost you less to purchase.

The Ring Pro is a wired doorbell so it might take a bit more time to install. It is also more expensive but its video capabilities surpass that of the Ring 2.

While wireless functionality is a big plus for the Ring 2, we still consider the Ring Pro as the better option.
Its excellent video capability and 5-second pre-roll feature are good reasons to spend extra to get it.

Top Rated Ring Doorbell 2021
Last update on 2021-09-30 / Affiliate links / Images from Amazon Product Advertising API