Last Updated on 3 years by On Trends Gear
While there are so many great projectors out there for your business presentations and family movie nights, there are just a few Best Pocket Projectors that would fit in your pocket.
The best mini projectors or pocket projectors would give you all the best perks for a great viewing experience.

What is a Mini Projector Used For?
A mini projector is used for the same purpose as other projectors – for viewing movies, and videos, and making presentations.
Some mini projectors come with smartphone device integration for a better viewing experience.
With them, you can watch movies, play games, and view anything right off your smartphone but this time on a bigger screen.
How Do I Choose A Projector?
Cost
How much are you willing to spend on a projector? It's best to do research on the average cost of pocket projectors before deciding your limit.
To get a high-quality projector at an affordable price, you should look out for discounts, and coupons, and check out notable brands with models targeted at those on a budget.
Brightness
The Lumens of a projector determine how bright it will be when you set it up. That's why the higher the lumens of a projector the brighter and clearer the picture would be.
Most portable projectors come with lumen ratings below 3000 but that is just enough to give you a bright picture.
However, there is no standard lumen measurement and some manufacturers tend to rate their products a lot higher than they actually are.
To ensure you don't fall for this dubious marketing tactic, you should stick to the top brands. This includes industry giants like Panasonic, Sony, Viewsonic, Acer, Epson, Casio, and Hitachi.
Connectivity Ports
When it comes to pocket projectors, the most important connectivity option is an HDMI port.
You might find projectors that still come with VGA ports for connecting your videos, however, you might notice too late that the VGA cable doesn't take the sound with it.
So unless you're a great lip reader, you might want to throw in some extra cash to get yourself a projector with an HDMI connection.
Picture Quality
Resolution is the major factor that determines picture quality but you also want to watch out for how colorful the picture would be.
You don't want a clear picture with artificial colours that would take the fun out of your movie nights.
When it comes to picking projectors based on their resolution, you should never go below 1080p. Also, look out for at least Full HD projectors.
Extra features like HDR would boost your overall viewing experience. Note that pocket projectors with the best picture quality come with a hefty price tag attached.
Here are the 15 Most Reliable and Trusted Best Pocket Projectors
Prima 1080p HD Pocket Projector
Optoma ML750
Epson EB-S41
LG Minibeam PH550G
Asus ZenBeam E1
ViewSonic M1
Anker Nebula Capsule II
APEMAN NM4 Mini Portable Projector
Kodak Luma 1500
Vankyo Leisure 3
AAXA P7 Mini Projector
Nebula Capsule II
Xgimi MoGo Pro
HOmPow Mini Projector
TopVision MIni Projector
1. Prima 1080p HD Pocket Projector
The Prima 1080p HD Pocket Projector isn't called the most portable pocket projector for no reason. It measures 5.75 in (L) x 3 in (W) x 0.71 in (H) and looks like an iPhone. It is so small that it will fit into your jean pocket with ease.
This makes it easy for you to take it with you and set it up anywhere you want. For connectivity, you get an HDMI port, a pair of USB ports, a Micro SD slot, and a 3.5mm audio jack.
The Prima 1080p HD Pocket Projector comes with an easy-to-use touchscreen control panel. The portable projector features a black ABS plastic build that makes it durable and tough. For image quality, you get both 1080p and 640 x 480 video resolutions.
The projector comes with a lumen rating of 200 ANSI lumens. It can project from 30 inches up to 200 inches.
Prima 1080p HD Pocket Projector Pros
3.5mm audio jacks allow for external speakers.
Multiple connectivity options.
Tough and durable build.
Prima 1080p HD Pocket Projector Cons
2. Optoma ML750
If you're willing to spend a little more on a portable mini projector with top-class features, then the Optoma ML750 would make for a great buy.
It is a DLP projector with a native resolution of 1280 x 800 resolution.
To enjoy these colourful pictures, you get universal I/O (VGA), and HDMI with MHL, USB, and Micro SD.
The Optoma ML750 is like a big case with all the ports on the back and the controls at the top. For the clearest pictures, this projector comes with 700 ANSI lumens.
The Optoma ML750 can project up to 60 inches and still maintain the best picture quality and clarity.
Optoma ML750 Pro
700 ANSI lumens
1280 x 800 resolution
Multiple connectivity options
Optoma ML750 Cons
3. Epson EB-S41
The Epson EB-S41 is notably the best portable projector for business. This is due to the high-end features that make it one of the best options to go for.
The Epson EB-S41 comes with 3,300-lumen brightness, a feature that trumps what any other portable projector has to offer.
It can project images and videos up to 300 inches making it a great option for business presentations and family movie nights.
The Epson EB-S41 has a resolution of 800 x 600 which is a little low but just good enough.
Epson EB-S41 Pros
3000-lumen brightness
Wi-FI connection
Small and portable
Epson EB-S41 Cons
No high-definition resolution
4. LG Minibeam PH550G
LG is known as one of the best electronic manufacturers in the market and its LG Minibeam PH550G is just one of its best products. It comes with an impressive 1280 x 720 resolution and a contrast ratio of 100000:1.
There are also a bunch of video input options including USB, Composite, RBG, and HDMI. There is a 500-lumen rating that should get you up to 100 inches with all clarity.
It also comes with wireless connectivity for you to connect to your smartphone or tablet.
LG Minibeam PH550G Pros
Multiple connectivity options
1280 x 720 resolution
Contrast ratio of 100000:1
LG Minibeam PH550G Cons
5. Asus ZenBeam E1
If you're on a tight budget and you're searching for a pocket projector with impressive features for your viewing experience, then the Asus ZenBeam E1 might make for the best buy. It is extremely small measuring 110 x 29 x 83mm.
There are only HDMI with MHI inputs for your viewing. 'The DLP projection system comes with 150 lumens and a contrast ratio of 3500:1.
It also features a built-in 6,000mAh battery that can give you 5 hours of runtime.
Asus ZenBeam E1 Pro
Long-lasting battery
Small
Durable and tough build
Asus ZenBeam E1 Cons
6. ViewSonic M1
From ViewSonic comes this portable projector for your personal use. The ViewSonic M1 comes with a 250-lumen rating which is good enough for a sizable screen.
You should be able to get up to 50 inches with exceptional clarity thanks to this high-lumen rating.
There are SD cards, USB-C, and HDMI ports for video input. This LED projector comes with a contrast ratio of 120000:1 and a resolution of 854 x 480 pixels.
ViewSonic M1 Pro
Good light output
Impressive port options'
Compact design
ViewSonic M1 Cons
7. Anker Nebula Capsule II
The Anker Nebula Capsule II might be your best shot at a budget-friendly portable projector for your viewing experience.
It comes with an 8-watt built-in speaker which is a step up considering what other portable projectors offer.
There is a 200 ANSI lumen rating for the best clarity at a good projection size. It also comes with a resolution of 1280 x 720 which brings your videos to life.
In addition to all these impressive features is a built-in Chromecast so that you can connect to more than 3,000 apps.
Anker Nebula Capsule II Pros
Built-in Chromecast
1280 x 720 resolution
Nice light output
Anker Nebula Capsule II Cons
Needs more connectivity options
8. AuKing Mini Best Pocket Projector
The AuKing Mini Projector Portable Projector is extremely small and will fit in your pocket like a coin.
However, its features are not the best on the market for those looking for high-end devices. If you're on a strict budget, then it is just perfect for you.
It comes with 854 x 480 resolution and a 3400mAh battery. You should be able to get 120 minutes of runtime out of this battery.
For your viewing options, you get HDMI and MHL inputs.
AuKing Mini Projector Mini Portable Projector Pros
Compact design
Can project up to 100 inches
Tough and durable build quality
AuKing Mini Projector Mini Portable Projector Cons
9. Kodak Luma 1500 Best Pocket Projector
Another tiny projector that would fit right into your pocket is the Kodak Luma 150.
It comes with a 1.5-watt built-in speaker which is not much to go by but thanks to its AirPlay compatibility and screen mirroring, you should be able to make out words when using this projector.
There is an HDMI port connection for you to connect your Apple TV, DVD player, or laptop.
Kodak Luma 1500 Pros
Portable Design
Durable
HDMI port
Kodak Luma 1500 Cons
10. Vankyo Leisure 3
If you plan on going extremely cheap on your portable projector then the Vankyo Leisure 3 is a great option for you to try out. It is just as small as you would want it and comes with a lot of perks.
It comes with a native resolution of 800 x 400, a brightness rating of 2400 lumens, and a contrast of 2000:1. You also get HDMI, VGA, USB, and analogue inputs.
There is also suppression technology to deal with the noise from the fan while the projector is in operation.
Lastly, you get a 4W stereo speaker for total audio power.
Vankyo Leisure 3 Pros
Noise-suppression technology
Multiple connectivity ports
4-watt stereo speakers
Vankyo Leisure 3 Cons
11. AAXA P7 Mini Projector
Sale
Next is the AAXA P7 Mini Projector. This is another impressive piece of software that comes at the right price.
It's got a built-in battery, 1080p native resolution, and impressive compact design.
AAXA P7 Mini Projector Pros
Built-in battery
450 Lumens of light output
Small and portable
AAXA P7 Mini Projector Cons
Video quality could be improved
12. Nebula Capsule II
Rather than a rectangular box, the Nebula Capsule II features a capsule-like design which makes sense considering its name.
This piece of tech comes with all the features you would expect in a high-end projector including Android TV compatibility, long-lasting battery life, and built-speakers.
It also comes with 720p resolution and 200 lumens of brightness.
Nebula Capsule II Pros
8W speakers
9700mAh battery
Built-in Chromecast
Nebula Capsule II Cons
13. Xgimi MoGo Pro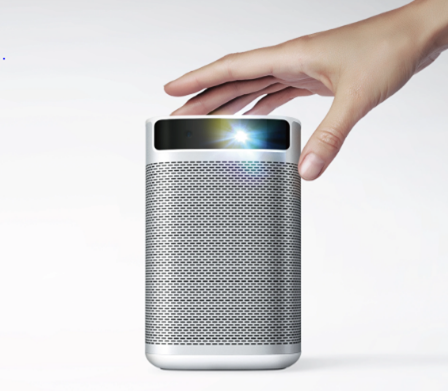 Xgimi MoGo Pro is a big deal on the market because it comes with many impressive features that surpass what other brands offer. First off, is its FHD 1080p which would give you a great video quality for your viewing experience.
It comes with a built-in Android 9.0 OS to help you connect to Android TV and get more content from apps. For connecting external devices, there are HDMI and USB ports.
There is also a 3.5mm audio output for you to connect your external speakers.
The Xgimi MoGo Pro is rated at 300 ANSI lumens which is the only notable downside. For a portable projector with such impressive features and built quality, the light output should have been a lot higher. 
Xgimi MoGo Pro Pros
1080p resolution
Built-in Android OS
Many connectivity options
Xgimi MoGo Pro Cons
14. HOmPow Mini Projector
The HOmPow Mini Projector might not fit in your pocket but will go right into your bag. It weighs just 3.1 pounds and 7.5 x 5.8 x 2.5 inches.
It comes with a brightness rating of 2400 lumens and a contrast ratio of 2000:1. The resolution is also impressive at 1080p. Overall, it is a smart option for those on a tight budget.
HOmPow Mini Projector Pros
2400 lumens light output
1080p resolution
Compact design
HOmPow Mini Projector Cons
Sound quality could be improved
15. TopVision Mini Projector

The TopVision Mini Projector comes with 2400 lumens and can be synced with your smartphone.
It is also compatible with Amazon Fire TV and comes with all the right slots for your microSD cards, HDMI cables, and USB cables.
TopVision Mini Projector Pro
Projects 50-176 inches
Great video quality
Excellent image clarity
TopVision Mini Projector Cons
Not recommended for business presentations
Last update on 2021-09-30 / Affiliate links / Images from Amazon Product Advertising API