Last Updated on 2 years by On Trends Gear
The motherboard is an essential part of your PC. It controls how well everything else in your PC works always avoid Motherboard Gets Damaged. 
If your Motherboard Gets Damaged, everything else will not work correctly, so you should protect it. There are many ways due to which your PC's motherboard can get damaged.
In this post, you will learn how motherboards get damaged and tips to repair them without investing your money. Let's have a look.
Some Hacks To Repair Damaged Motherboards
1. Motherboards Overheating
Heat is bad for electronics. It can make it stop working. When you do heavy work on your computer or play games that use a lot of power, the motherboard will overheat and get damaged.
You can fix this problem by using fans or heat sinks to cool it down again. Overheating can bend the small parts of your motherboard. 
white motherboards are very sensitive, and a loose or improper connection often becomes a significant factor in damaging the motherboard. 
It would help if you cleaned out the vents on your computer to cool it down. A few weeks intervals are ideal in that scenario.
2- Inappropriate Power Supply
The motherboard has a power supply connection. You must find a PSU that can provide enough power for your computer and its components.
If the PSU can not provide enough power, the computer will stop working, and the motherboard might get damaged.
Power surges can damage your computer. When you turn off power-intensive devices like refrigerators and ACs, they take a short time to adjust the available current.
Other electrical devices like lights and your computer will get more power in those moments. So, it would be best if you had a setup for it.
You should purchase a surge protector to safeguard your computer system. Power surges can blow your PC and peripherals with them.
You need to ensure that the surge protector you buy is compatible with your motherboard and the power supply cable.
The surge protector will only cost you about 10-15$.
3- Short Circuits
A short circuit is a problem that can happen on a desktop computer or laptop.
You have a better chance of it happening if you have built your PC or bought a new computer from anywhere else.
The computer's power supply unit is attached to the mobo. The motherboard sends electricity to other components in the computer.
If any of these other components are not tightly connected to the motherboard or gaps in between, there is a lot of chance that they will have a short circuit and might hurt your CPU, memory and HDD, etc.
When assembling a computer, make sure that the motherboard fits the case perfectly and that every screw is attached. 
Ensure there is no extra contact with any metal parts on the motherboard. If you do not, there will be a possibility of a short circuit.
4- Poor CPU
The motherboard holds a Central Processing Unit (CPU), a small digital processor that runs most of the computer's programs.
Unless the CPU is severely cracked, it will not hurt your motherboard. It can melt down some components if shorted out against the ground. In this scenario, you have to replace it.
If you think your computer is not working, you need to change the CPU.
Ensure that the CPU, CPU cooler, and thermal paste connection are all good. You also need to use thermal paste that will absorb heat better.
5- Sluggish Video Card
Video cards and CPUs are similar. Both of them can affect the motherboard. Your video card will get hot if you perform extensive graphics work.
If your GPU is too old, it will affect the function of your motherboard. The connection between the video cards and the motherboard needs to be tight, so a short circuit does not happen.
To avoid it from occurring, you need to connect them perfectly with each other. find perfect fit Computer Graphics Cards for laptops
6- Inapporiate Dull Ram
Your Random Access Memory (RAM) is also in your motherboard.
So, the question comes up: Can insufficient RAM damage your motherboard? Generally, RAM will not harm your motherboard.
A problem with the RAM only causes issues when trying to start up a PC. You can break your motherboard by installing it wrong or reversing it.
But installing dull RAM can damage the RAM socket, which can cause harm to the motherboard directly.
Make sure you check how much voltage your RAM needs not to cause a short circuit in your motherboard.
7- Dust Inside The Motherboard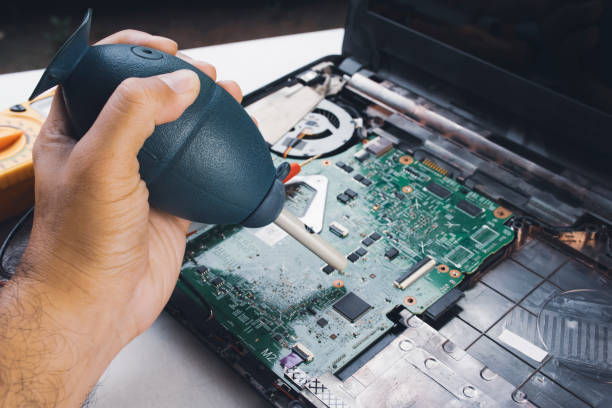 Dust is a common enemy for electronics. It can cause your computer not to work correctly.
Dust can also cause other components to fall off of the motherboard or make the fan less effective at keeping the electronics cool, making them overheat.
You should clean your computer. It has been a while. To avoid damaging your computer, try to wash it after every few months (both inside and outside).
8- Inferior Hard Drive
The hard drive is the place where your computer stores all of its data. Sometimes, the hard drive does not work perfectly after a long time.
It might happen because of other things too. Sometimes, your PC would not boot up properly.
A damaged HDD can cause a short circuit, fry out the motherboard. You should get a newer one.
Title
Editorial Choice
Seagate BarraCuda 8TB Internal Hard Drive HDD...
Best Pick
Toshiba X300 4TB Performance & Gaming...
Top Choice
Western Digital 4TB WD Blue PC Hard Drive HDD...
Preview
Editorial Choice
Title
Seagate BarraCuda 8TB Internal Hard Drive HDD...
Preview
Best Pick
Title
Toshiba X300 4TB Performance & Gaming...
Preview
Final Words:
Your computer's motherboard is its core component. Each part of the system is connected by the motherboard.
When Motherboard Gets Damaged your computer will not work and will be like a useless trash box if it is infectious.
This article explained why you should primarily take care of the motherboard and protect it from being damaged. In this article, you have also learned how to fix a motherboard.
Last update on 2023-10-09 / Affiliate links / Images from Amazon Product Advertising API