Last Updated on 3 years by On Trends Gear
The Xbox One X remains one of the best gaming consoles ever released by Microsoft and will rival new generation consoles with ease.
This isn't an exaggeration. You would get a decent performance off the Xbox One X.
It also comes with a high-quality build that would actually survive a fall. Most gaming console brands PS and Nintendo focus on performance and design but forget the build quality.
This is one place the Xbox One X shines but it is not the only feature that makes it stand out.
In this Xbox One X Review, we're going to discuss everything about this high-end gaming console including its design, quality, performance and pricing.
Xbox One X – Specifications
CPU: 2.3 GHz (8 Jaguar cores)
GPU: 1.172 GHz
RAM: 12GB GDDR5
Disk
drive: 4K UHD Blu-ray drive
Storage: 1TB Hard Drive
Wireless: Wireless IEEE 802.11ac dual band
Ports: 1x HDMI-in, 1x HDMI-out, 1x Ethernet port, 3x USB 3.0, 1x IR receiver and blaster,
Size: 11.81 x 9.45 x 2.36 inches
Weight: 8.4 lbs
Xbox One X Review: Price and Release Date
Microsoft Xbox One X 1Tb Console With...
Games play better on Xbox 1X. Experience 40 percent more power than any other console
6 teraflops of graphical processing power and a 4K Blu ray player provides more...
The Xbox One X was launched on November 7, 2017. This is quite a few years into the past and there are new competitive consoles like the PlayStation 5 and Microsft's new Xbox Series X.
You should be able to get the Xbox One X for just $619.86 at the moment. This is not the standard pricing as most stores would sell lower or higher depending on your location and the demand for the console in that area.
Xbox One X Review: Design
The Xbox One X design is very similar to the Xbox One S. In fact, the only difference between both consoles in terms of design is the colour option which has been removed from the limited edition.
If you haven't seen the Xbox One S, the Xbox One X comes in almost the same shape as any gaming console you've ever seen – the rectangular shape.
It is similar to a Blu-ray player sporting a matte grey finish coating which is quite stunning. There is also a white colour type that is also just as great. The most distinct feature here is actually the ability to play 4K Blu-ray games.
Note that this is a game console that came out in 2017 when 4K was the craze at the time. This feature is one of the reasons it is called the king of consoles.
Not only will you be able to access Xbox One games but you will also be able to play 4K Blu-ray games.
At the time, the Xbox One X was ahead of any of those gaming consoles including the Sony PS4 Pro, however, with the new Xbox X releases, we can say its greatest rival has matched its offer.
When talking about ports and cables, the Xbox One X comes with everything you would need. You will find dual USB ports, an HDMI input, an output port, a power connector, an Ethernet port, an IR output, and an Optical Audio port.
You won't find a motion-sensing camera Kinect port in this offer which is quite disappointing.
Xbox One X Review: Features and Specs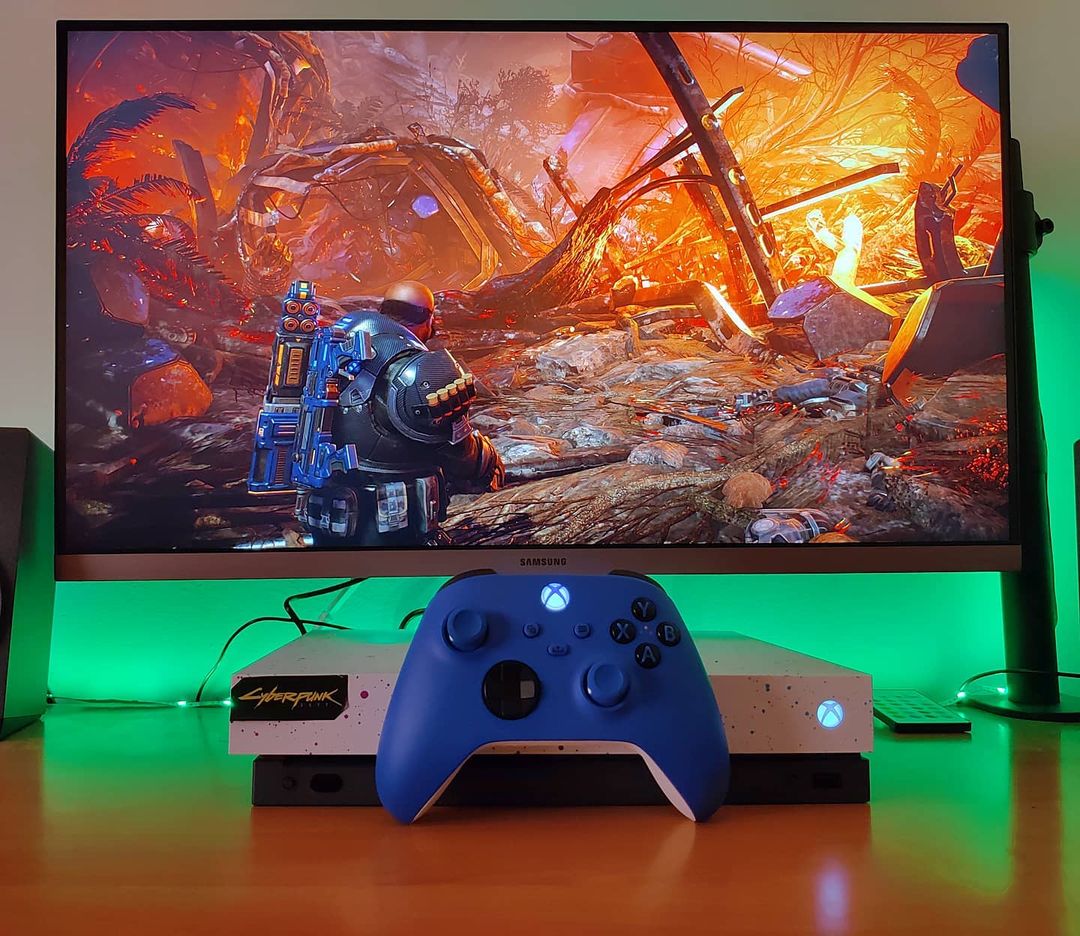 Feature-wise, there is nowhere the Xbox One X doesn't impress. From ample RAM space to a powerful GPU, the Xbox One X is packed to ensure you get the best gaming experience.
You will find 12GB of GDDR5 RAM, a powerful 8-core 2.3GHz CPU, and a GPU that can be clocked at 11l50MHz.
When you combine the RAM and the powerful GPU, you get superb performance and unmatched imagery. Both will offer 40 graphical computing power units reaching 6 teraflops which is definitely stunning.
Also, this gaming console is built to handle 4K HDR gaming without lagging, slow graphical performance, or pixel distortion which could be a pain in the back when playing fast-paced games.
The 12GB of GDDR5 RAM is partitioned between the GPU and the system which not only boosts its performance but is one of the reasons why it is hard to match up the Xbox One X with other consoles.
Thanks to the 8 Jaguar CPU cores, this console's CPU will deliver a boosted performance which is a big upgrade from the Xbox One and One S. You will notice up to a 75% increase in performance if you've used the previous consoles.
It also fairs better than Sony's PS4 Pro and the Nintendo Switch. The PS4 Pro GPU offers 36 Graphics at 911Mhz though this is understandable considering its 8GB DDR5 RAM and 2.1 GHz CPU.
Though the PS4 Pro was launched earlier than the Xbox One X, the latter still takes the trophy here.
The main problem with the Xbox One X is the lack of enough storage for games. This problem is amplified by the inability of the storage space to be expanded. But this problem has been solved by the Lunches of the new Xbox X series on November 10, 2020.
Notwithstanding ensures you do get up to 1TB of storage but this might be too small for any high-end gamer.
You may have to end up deleting some previous games just to create space for new ones.
Xbox One X Review: Game Performance
For every gamer, an outstanding gaming performance ranks high on their scale of preference and this is one area the Xbox One X performs excellently.
Its heavy horsepower-boosted CPU and GPU all offer one of the best gaming performances that actually meet the hype.
Regardless of the game being played, you will find that Xbox performs superbly offering you more realistic visuals that make for an immersive gaming experience.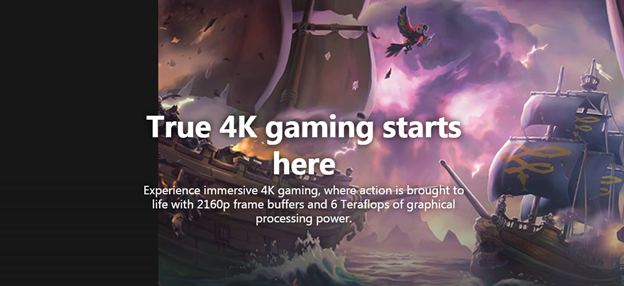 The graphical and gaming performance of the Xbox One X will be most notable for those using 1080p TVs.
Let's face it, 4K is truly the best there is but if you can't afford to spend hundreds if not thousands of dollars on a 4K TV, Xbox One X offers a solution for this.
The console comes with a supersampling feature that boosts the imagery by rendering the game in 4K rather than in 1080p which is your TV resolution. The resulting image is richer in both detail and colour.
You will find that trees and branches look sharper.
The Xbox One X does even better if you have a 4K HDR monitor or TV. 4K simply means four times the image quality of regular 1080p.
Thanks to the high-dynamic range (HDR), some games will feature a wider array of colour options allowing for improved imagery like bluer skies and greener grasses.
Another big feature that boosts the overall game performance of the Xbox One X is the frames per second at which a game will load.
Frames per second (fps) refers to the rate at which an image is refreshed to produce simulated motion. This is to say all movements you see in a video game are due to the refreshing of frames.
The faster the frames refresh the smoother and more responsive gameplay. If it is too slow, the entire gameplay would look choppy and poor.
The Xbox One X runs games at 60 frames per second which is the most ideal rate for fluid and responsive gameplay.
This is what you'd get in the PS4 Pro which is at 30 fps. This outstanding frame rate won't decline with any game as with the previous models of the Xbox.
Xbox One X Review: Interface
The interface of the Xbox One X has gone through several upgrades since it was released. The software has been upgraded twice to ensure it meets with the current trends and needs of gamers.
The updated design looks more improved bearing looks similar to the Windows 10 and Xbox 360.
There are separate Home and Store tabs including tabs for Entertainment, Mixer, and Community.
The interface allows you to pin games on the Home Screen so you can just select them from there and get to playing. This is a big bonus especially if you have many games on your console.
Overall, you've got to hand it to Microsoft for the many relevant upgrades which have kept the Xbox One X going.
Xbox One X Review: Sound Quality
While you could hook the gaming console to an external sound system, it is still important for it to produce decent sound.
The Xbox One X comes with DTS and Dolby Atmos sound. The latter allows you to connect your speakers to the console.
The sound quality is absolutely stunning, however, there were some slight hitches in balance and echo in high-end games like Call of Duty:
Modern Warfare. Though while watching movies and playing music, you won't notice any glitches or mess up.
Xbox One X vs Xbox Series X; What is the difference?
Preview
Editorial Choice
Best Budget
Title
Microsoft Xbox One X 1Tb Console With...
Batteries
1 Lithium Polymer batteries required. (included)
2 A batteries required. (included)
Editorial Choice
Preview
Title
Microsoft Xbox One X 1Tb Console With...
Batteries
1 Lithium Polymer batteries required. (included)
Xbox One X Review: Verdict
The Xbox One X towers above the PS4 Pro in terms of performance, 4K HDR gameplay, and features even though go for the same price.
While the limited disk space would be sort of an issue, every other feature is simply superb. However, you should that the Xbox One X has been discontinued by Microsoft due to dwindling sales so you should look towards the Xbox Series X.
Last update on 2023-10-09 / Affiliate links / Images from Amazon Product Advertising API