Last Updated on 1 year by On Trends Gear
American Klipsch has been around for quite a long time now and has established itself as one of the best brands for lovers of good bass and a very fresh level of sound.
They have gone ahead to launch a new reference premiere series and Klipsch has put out three new amazing subwoofers.
10-inch, 12-inch, and 15-inch subwoofers. However the 15-inch subwoofers are the best of the lot, and we will explain why.
Klipsch is the biggest subwoofer on the market right now, so you cannot hide it or fit it into smaller spaces, however, the unique copper-coloured 15 " Cerametallic bass ensures that you feel the superb rocking impression.
They made use of the bass reflex principle when making the cabinet but they also adopted a slit-shaped reflex port as opposed to the normal round bass-shaped port.
The fore part is made of simple vinyl and has a very brushed surface structure.
Klipsch R-115sw Subwoofer Review & Features:
it has an amazing slot port to help you get the best sound and bass out of the subwoofer even if you back them into a corner.
400-watt RMS amplifier (800 watts peak power)
compatible with the wireless audio adapter kit for an easy connection to a sound system
15" spun-copper Cerametallic woofer
Dimensions: 21.5" H x 19.5" W x 22.3" D
All-digital amplifier delivers 800 watts of dynamic power
15-inch spun Cerametallic structure to keep it strong and durable.
A satin plate underneath to help separate the subwoofer from the floor and protect it from harm.
Auto power feature: This feature makes your subwoofer turn on when it receives a signal rather than you manually use the power button all the time. 
Performance and Sound Quality:
It is quite rare for you to see so much quality in a subwoofer for the price that they go for. Also, large bass elements seem to be very scarce nowadays and this one seems to come with a large petrol engine.
None of the other subwoofers can create as much life and bass as the R-115SW. The bass reproduction of this sub is very powerful and it is very dynamic and unique.
It has a deep synth bass which gives it a very refreshing feeling and you are definitely going to enjoy yourself.
The 15-inch can last much longer than the other smaller subwoofers. These subwoofers are the most exciting subwoofers on the market right now as they hit very hard and precisely contrary to most reports.
The R-115SW is also very impressive in regards to its frequency range.
Klipsch manages to maintain a really good sound pressure all the way down to 20Hz while other subwoofers gradually roll off.
The slit shape was created precisely in order to minimize door noise according to Klipsch, but we have also noticed some blowing sounds at extremely high volume at low frequencies.
But the Klipsch sub is so ready to tear down your house or anywhere you want it! However, there are also a few problems due to the fact that the bass is so good.
Because the subwoofers play so powerfully, there are going to be problems with the acoustics in the room.
Klipsch r 115sw Subwoofer Bass Testing & Connection Set up:
I set up the subwoofer in a way that the twin R-115SW both flanked the Klipsch RS280 towers that are also included in the 7.2 channel set.
This method takes a lot of space, so it's important that you have a moderate room at least.
This system is perfect as a subwoofer that is even slightly bigger would be considered too big for a moderate space.
Also, I made use of an 80 Hz crossover when integrating the subs with the tower speakers.
Also, while I was taking measurements of the sine wave sweeps with REW, I discovered that the bass response was much better around my main listening position.
I proceeded to measure a 12 dB spread between the peaks and the nulls too.
Overall Music & Movies Sounds Performance: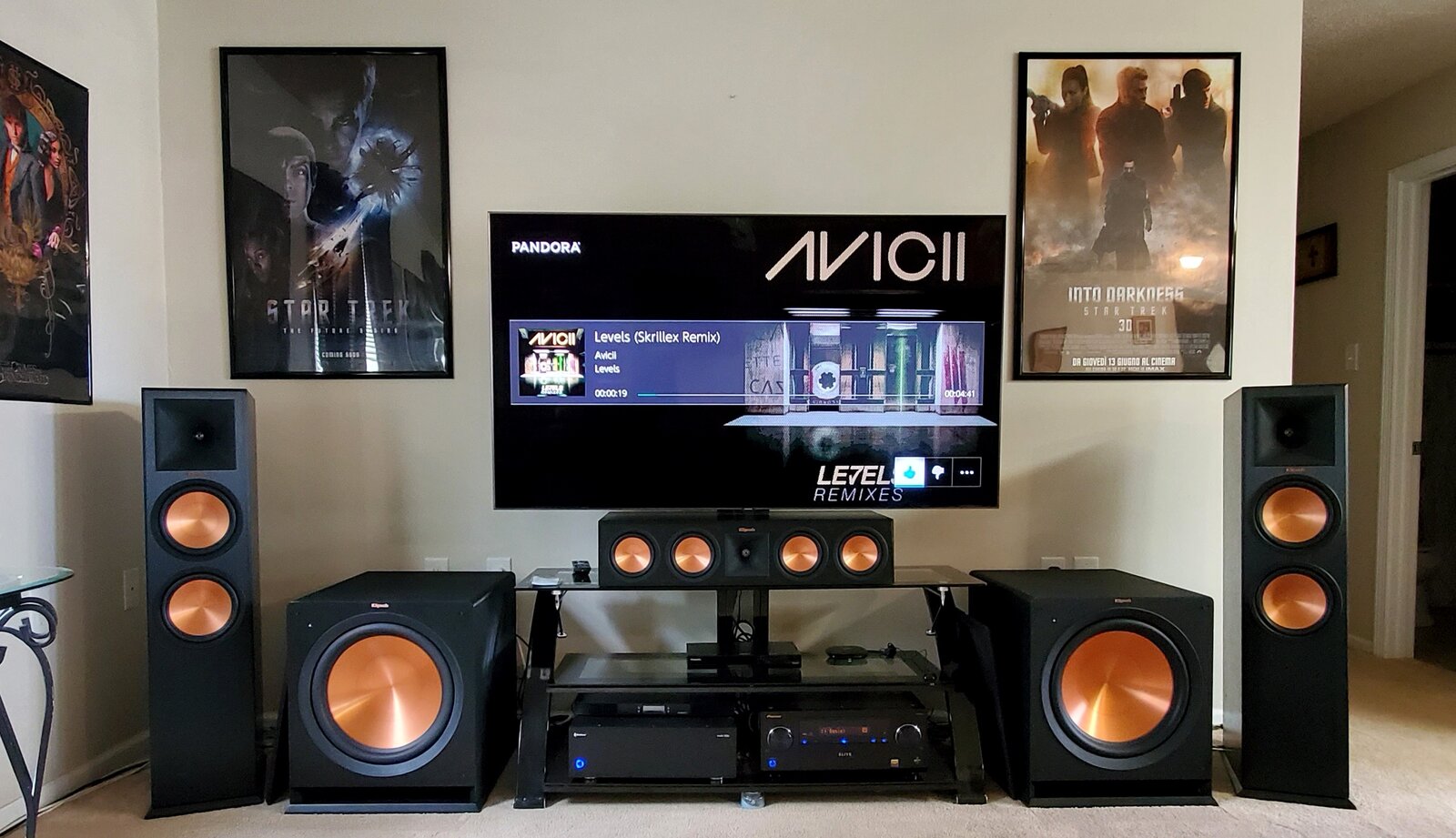 The R-115SW is a very efficient subwoofer that produces an enormous output of bass, this particular sub is very good for music and movie watching as the sounds are very clear, and also this sub is very effective in the way it works even in the 20-30 Hz frequency region.
The R-115SW always gives a superb performance regardless of what you are watching and the conditions in which you are watching anything, they leave out room for excuses.
I ran some sine-wave sweeps and I was able to add a large amount of energy to a whole room with just one of the subs.
Also, I totally locked the room from 18Hz up and there was still so much headroom to spare. I measured the sine waves at 20 Hz and it measured 100 dB at my main position for listening.
Klipsch's 18 Hz low-frequency rating is also very accurate as I also learned.
klipsch r 115sw Subwoofer Pros and Cons:
There are lots of things you are going to enjoy when you opt for this particular subwoofer as klipsch definitely outdid themselves on this one.
It comes with so many benefits and it was created to best serve your interests, whatever they may be. Here are a few pros:
klipsch r 115sw Subwoofer Pro
The R-115SW is very strong and durable, it outlasts most of its counterparts.
This is a fantastic feature especially when you think about its pricing and cost of maintenance.
The front porting is very superb and this means you can set it up wherever you want and still receive maximum output.
If you are shopping, you get 50% more amplifier power on the klipsch reference subwoofer line. This is a great bonus too.
klipsch r 115sw Subwoofer Cons
– There are a few things you need to consider before getting this subwoofer,
You have to consider the size of the room, the placement of the woofers and other factors as this could be a problem if they aren't done correctly.
Does Klipsch R-115sw Subwoofer Worth the Money or Choose Other Alternatives: 
Preview
BUDGET PICK
TOP CHOICE
EDITORS CHOICE
Product Name
Klipsch 12" 400 Watts Wireless Subwoofer...
Klipsch Reference R-112SW Subwoofer, Black
Klipsch SPL-150 15-inch Powered Subwoofer...
Speaker Nominal Output Power
Item Dimensions
18.3 x 15.5 x 17.4 inches
BUDGET PICK
Preview
Product Name
Klipsch 12" 400 Watts Wireless Subwoofer...
Speaker Nominal Output Power
TOP CHOICE
Preview
Product Name
Klipsch Reference R-112SW Subwoofer, Black
Speaker Nominal Output Power
Item Dimensions
18.3 x 15.5 x 17.4 inches
EDITORS CHOICE
Preview
Product Name
Klipsch SPL-150 15-inch Powered Subwoofer...
Speaker Nominal Output Power
The price is more than superb. The truth is, getting the Klipsch R-115SW subwoofer for $899 is an absolute steal and you should definitely take up this deal because you wouldn't find a better one. 
It is very standard, a 15-inch Cerametallic driver powered by an 800-watt class D amp.
This is a dream for everyone with an in-depth knowledge of sound. Also, you should know that you can find the R-115SW available on some internet sales websites and they include free shipping.
That is actually very good as you may have to pay about $100 due to the size of the sub under normal circumstances.
The R-115SW is definitely worth the price.
But if you would like to try some of its biggest alternatives then you should consider:
Similar or Alternatives To Klipsch R-115sw Subwoofer
1. klipsch sub 10:
The klipsch sub 10 is a 10-inch, efficient driver which is recorded to provide about 420 watts of power.
The subwoofer's low-pass crossover is between 40Hz and 110Hz and can be adjusted comfortably.
The connectivity is pretty good as it covers everything, the bases and the other sets of speakers.
2. Klipsch R-80SWi 8-inch Wireless:
The Klipsch R-80SWi wireless subwoofer is known for its awesome bass even without making use of a subwoofer cable.
This subwoofer is popular and mainly used because of its ease and simplicity.
You enjoy total freedom when you make use of the R-80SWi irrespective of your room size or layout.
It is also very easy to set up and you don't even need anyone's help or a manual.
Once you connect the compact transmitter to the subwoofer out of your favorite component, place the wireless subwoofer anywhere you want around your room, plug it into an outlet and begin to enjoy greatness.
3. Klipsch RP-600M Subwoofer:
Sale
The Klipsch RP-600M Subwoofer is also a very wonderful and unique brand of klipsch subwoofers.
Its unique design makes it possible for it to minimize port noise so you can enjoy clean and smooth sounds even at low frequencies.
You also stand to enjoy numerous benefits if you choose to make use of this subwoofer or any other one listed above.
Klipsch R-115sw Subwoofer FQA
Did Klipsch take care of the amplifier failures for the R-115SWs? 
Yes, Klipsch has taken care of all the amplifier failures that customers previously experienced and complained about. 
How can you correctly measure SPL on your Subwoofer: 
The best and most accepted method is using the SPL meter. An SPL meter is used to measure the intensity of noise, music and any other sounds. They're very effective.
What is the best setting for sub-gain frequency and receiver dB? 
You should calibrate each speaker to approximately 75dB and it is important to note that they must be at the same level. 
It's also fine if you want to boost the sub-level for a better bass impact. it is more important that they're all on the same level.
Why do so many people have amps issues on Klipsch Subwoofers?
It's a basic human factor as people just turn up the volume without any prior knowledge so the amplifiers are necessary to maintain the good sound and bass.
Conclusion:
The R-115SW is bigger than the other subwoofers but it is definitely worth all its shortcomings.
It is so powerful and can cause the room to move, the sub is so good that it makes the air feel like a physical presence and it exerts a huge amount of pressure.
The base is perfect and you can use it on both music and movies, and still get the best results.
I can safely say that the Klipsch R-115SW subwoofer is awesome, worth the money and highly recommended having tested for a few months.
Last update on 2023-10-09 / Affiliate links / Images from Amazon Product Advertising API